(English text below)
Mir stand die beste Zeit meines Lebens bevor, da war ich mir sicher. Rund ein halbes Jahr gemeinsam mit Sohnemann auf unseren Motorrädern durch Südamerika zu reisen war bereits im Vorfeld meiner Weltreise mein persönliches Highlight. Eine ganz und gar nicht alltägliche Möglichkeit, dessen war ich mir bewusst. Ich war sehr gespannt und freute mich auf die Ankunft von Marco in Buenos Aires am 10. Oktober. Die Wiedersehensfreude war groß, hatten wir uns doch mehr als sechs Monate nicht gesehen. Es gab viel zu erzählen, bevor wir dann eine Woche später bei strömendem Regen unser Abenteuer Richtung Uruguay starten konnten.
Wie in Afrika haben sich auch auf diesem Kontinent Bilder in mein Gedächtnis gebrannt, die ich nicht mehr vergessen werde.
In Montevideo waren wir bei Jesús, den wir an Marcos Geburtstag in Buenos Aires kennengelernt hatten, zum Asado eingeladen. Was bei uns Grillen, in Südafrika Brai und in vielen Teilen der Welt BBQ ist, wird in Südamerika Asado genannt und beschreibt nichts anderes als die Zubereitung von Fleisch auf einem Holzkohle-Grill. Im Gegensatz zu uns ist dort die Verwendung von fertiger Grillkohle weitestgehend verpönt. Diese wird selbst hergestellt, indem ganze Holzscheite entzündet werden und die dadurch entstehende Kohle dann zum Grillen von Fleisch und Wurst verwendet wird. Eine äußerst entspannte Art eines Grillabends, hat man vor dem Essen bereits ausreichend Zeit sich zu unterhalten und das eine oder andere Bier zu genießen. Bereits in Südafrika genoss ich bei Einladungen auf diese Weise feinstes Fleisch von Kudu, Springbock und Oryx. Südamerikanisches, insbesondere argentinisches Rind wurde jedoch zum meinem absoluten Local-Food-Favoriten.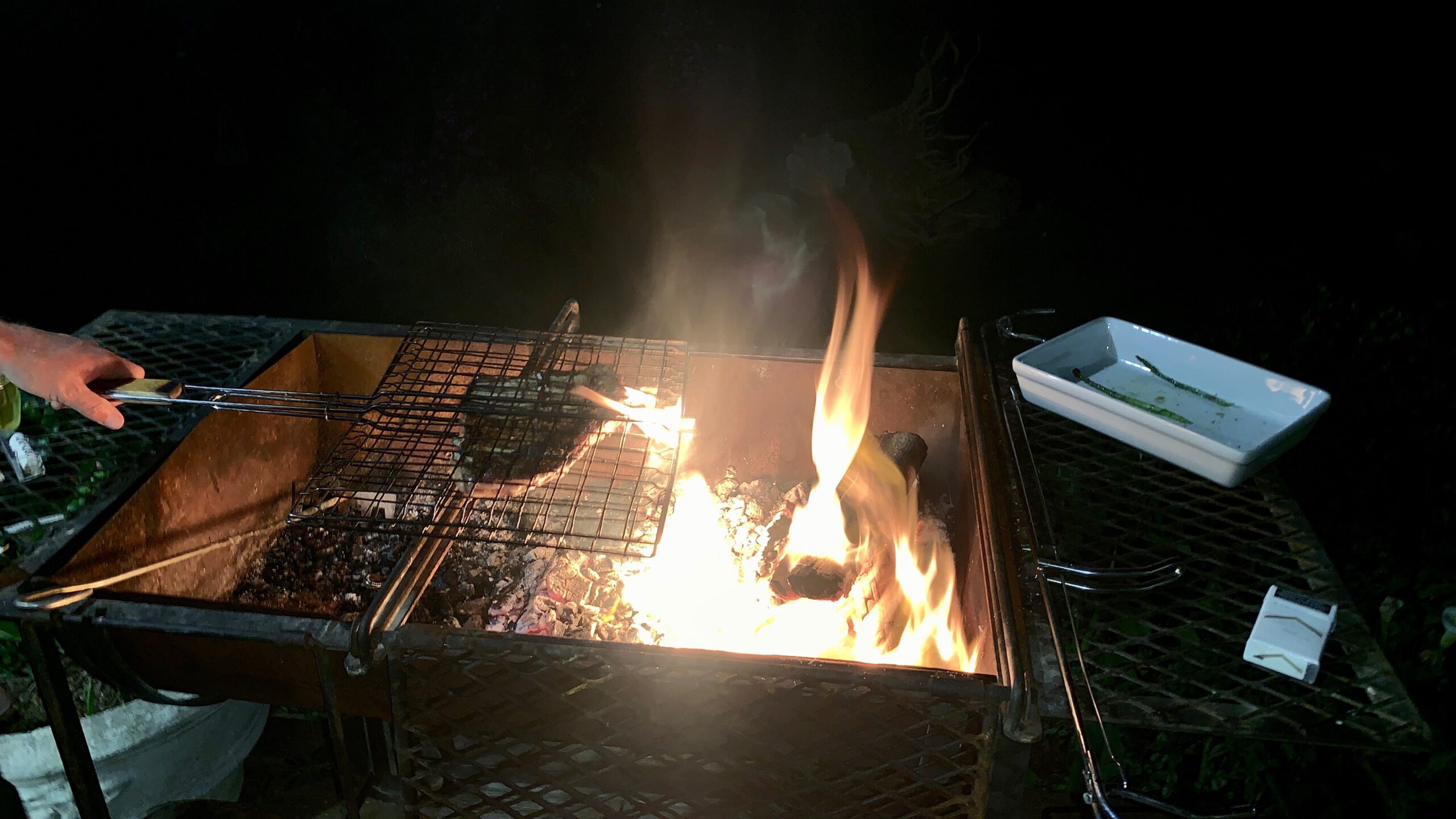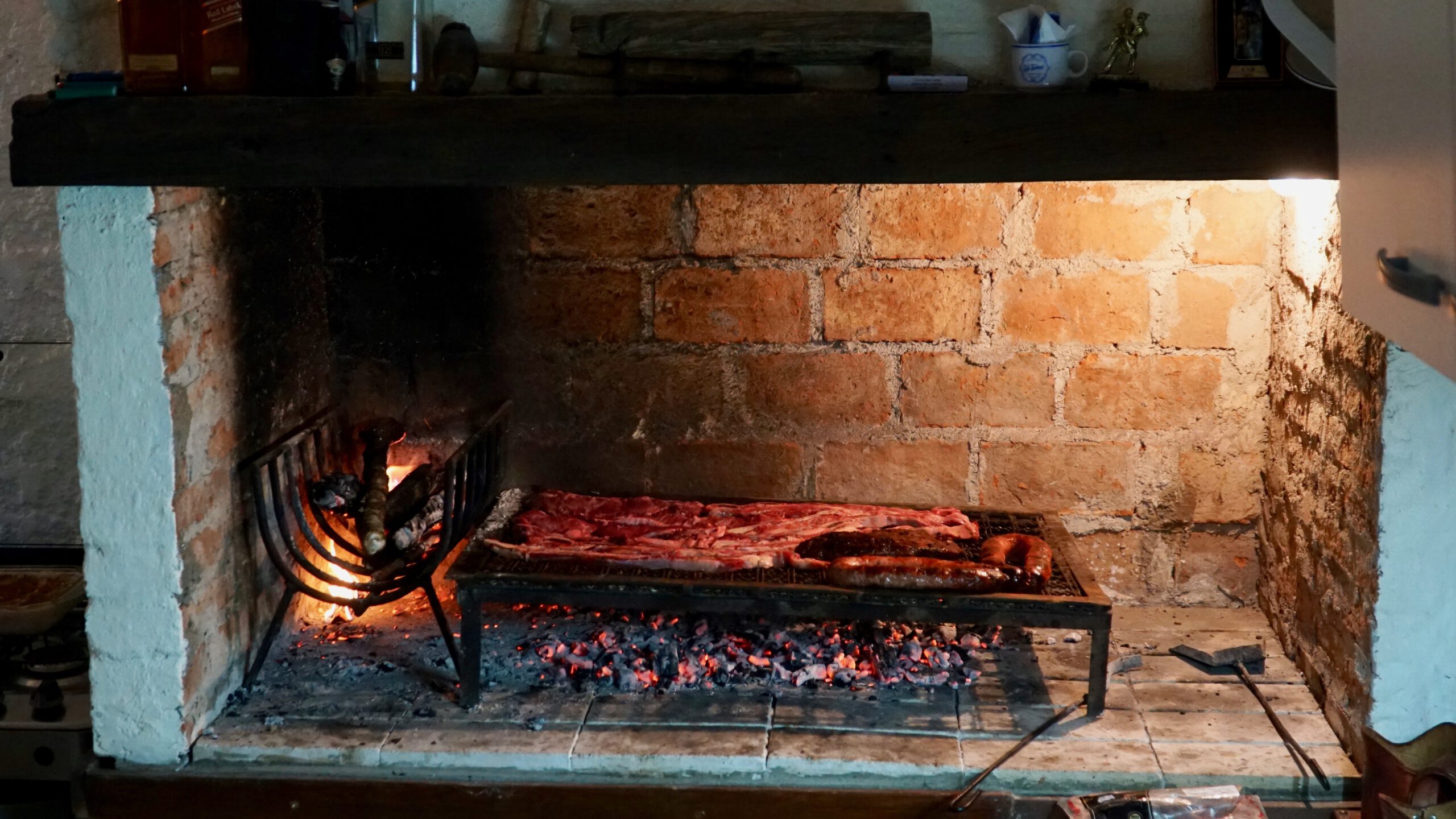 Auf unserem Weg durch Uruguay und den Süden Brasiliens sahen wir einen möglichen Grund, warum das Fleisch hier besser ist. Die Tiere haben riesige, meist saftig grüne Weiden.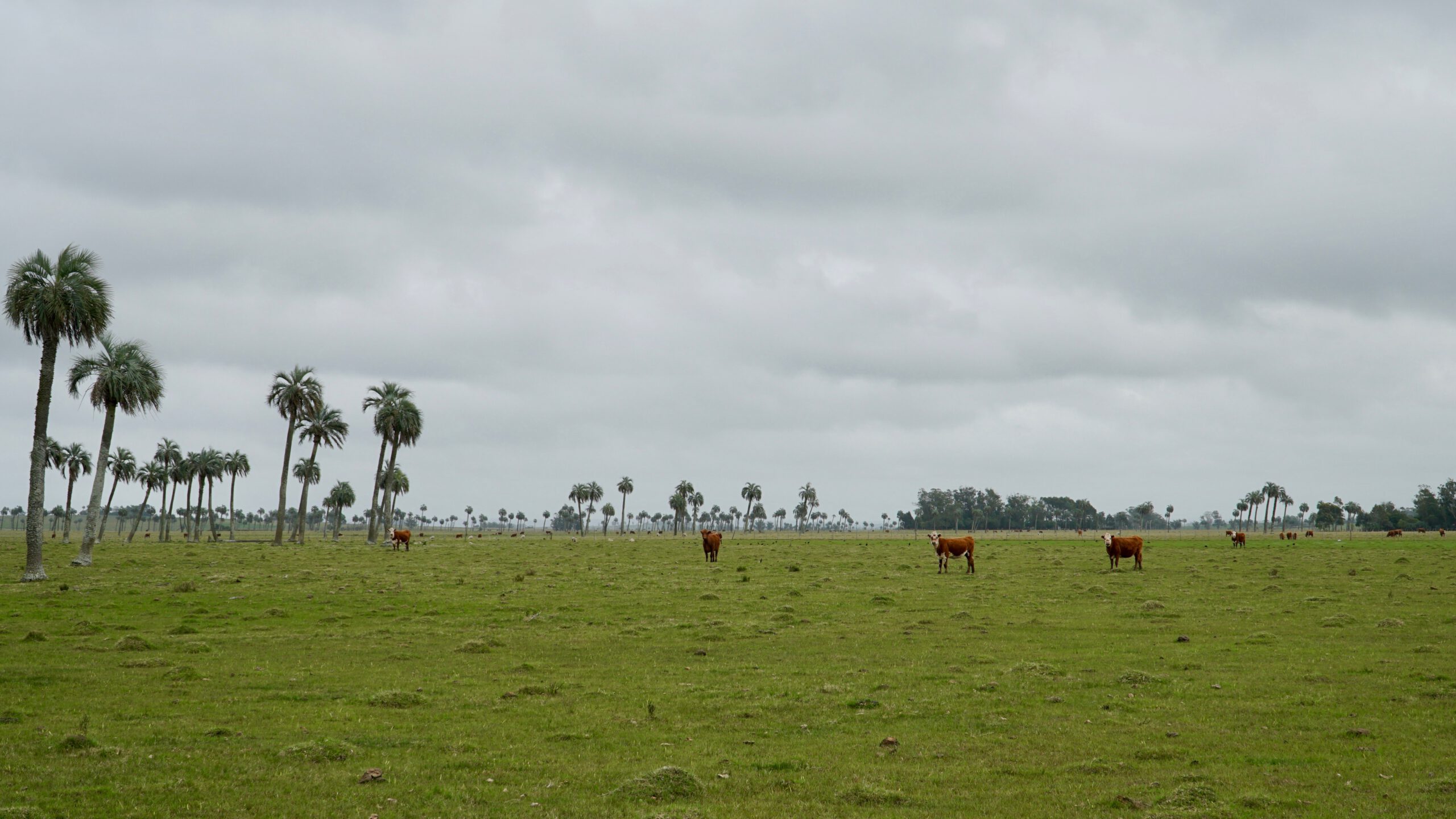 Den rund 3.000 km langen Umweg über den Süden Brasiliens nahmen wir kurzentschlossen in kauf, um die imposanten Iguazù-Wasserfälle zu besuchen. Diese bestehen aus 20 größeren sowie 255 kleineren auf einer Ausdehnung von 2,7 Kilometern. Wirklich beeindruckend, allerdings auch sehr touristisch. Eigentlich nicht so unser Ding, aber in diesem Fall absolut lohnenswert.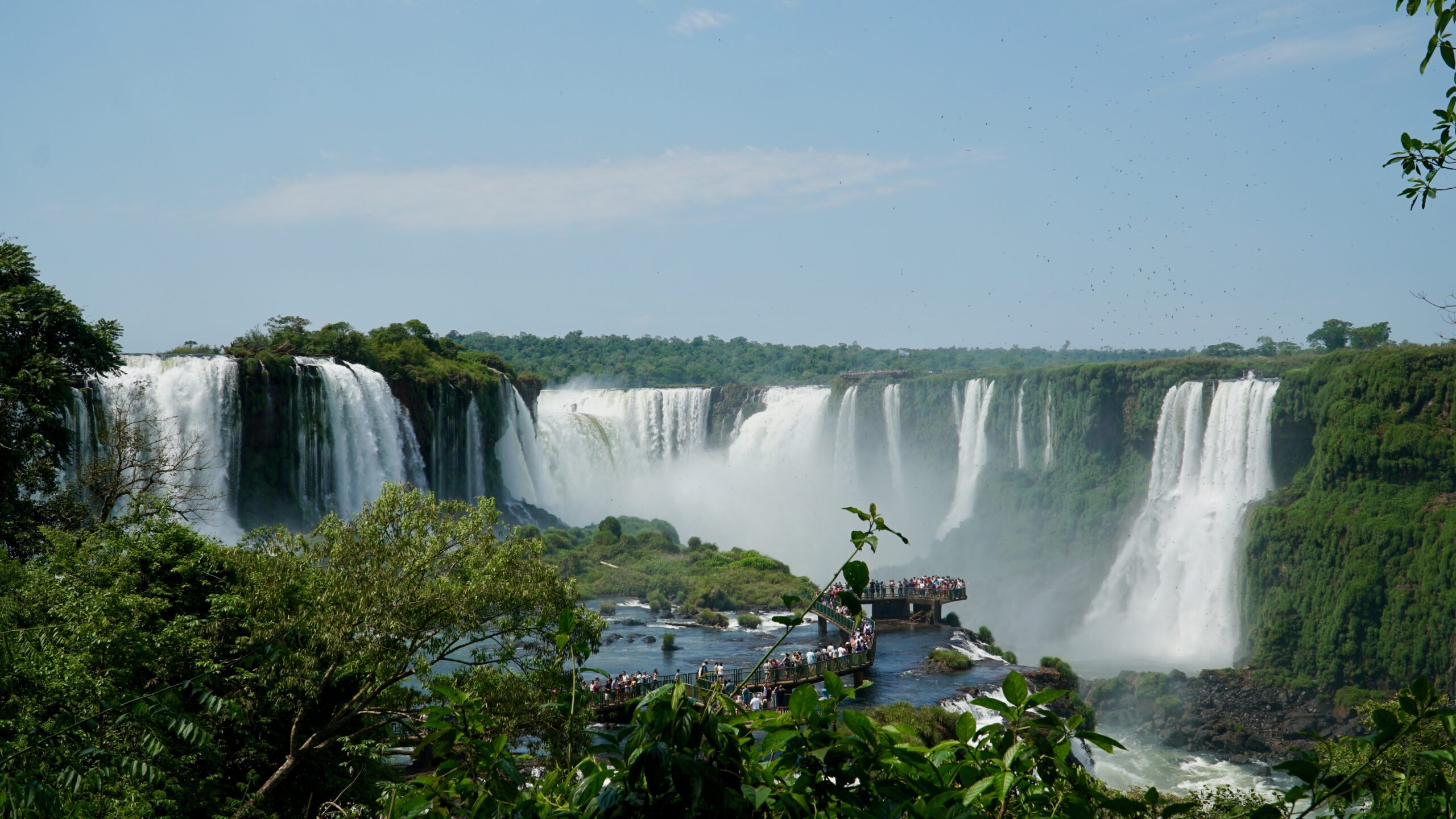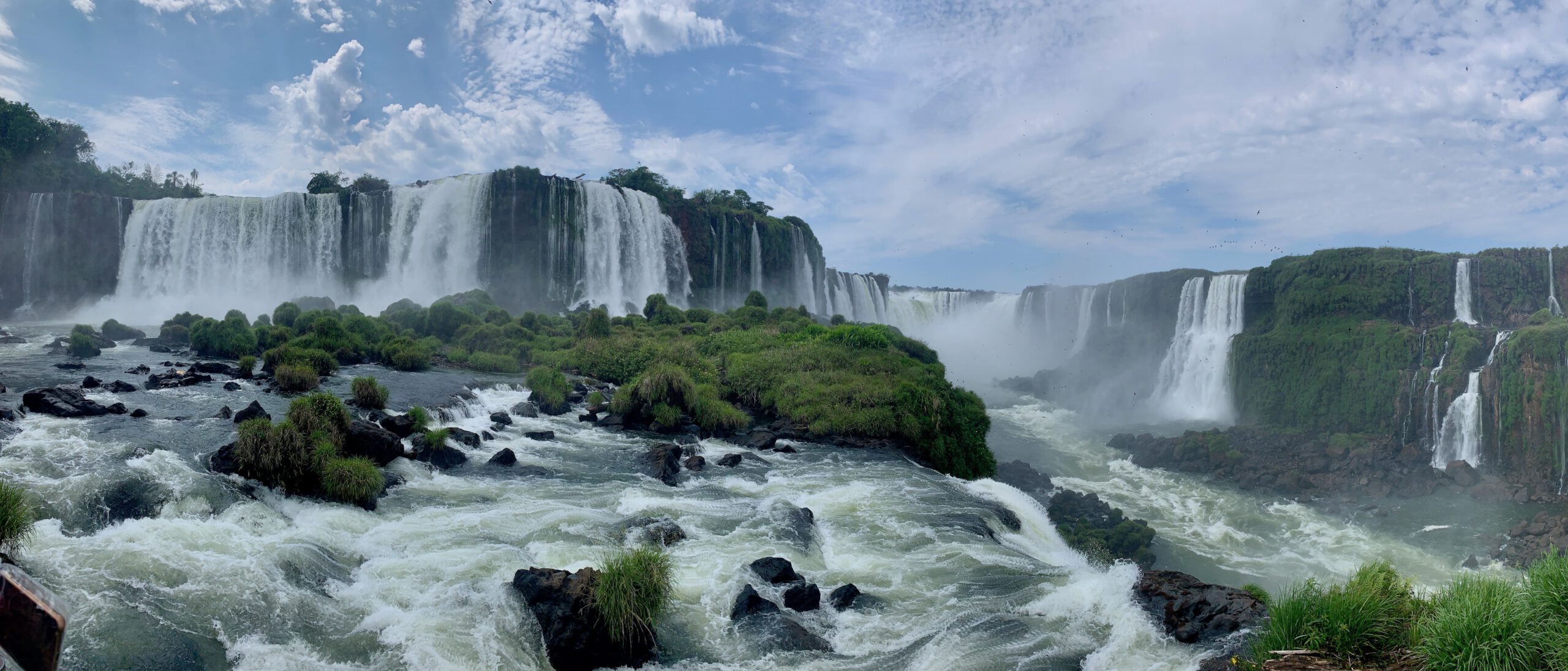 Von den Wasserfällen, die sich an der Grenze zwischen Brasilien und Argentinien befinden, war Paraguay nur einen kurzen Ritt entfernt. Entgegen einschlägiger Warnungen, vor allem über angeblich äußert korrupte Polizisten, entschlossen wir uns trotzdem dieses Land im Osten von Nord nach Süd zu durchqueren. In Erinnerung geblieben sind mir vor allem die östlich des Rio Paraguay liegenden, riesigen landwirtschaftliche Flächen, auf denen vornehmlich Soja industriell angebaut wird. Die Großgrundbesitzer sind dort überwiegend deutschsprachige Mennoniten, die meist aus Kanada in den 20/30-iger Jahren übersiedelten und nun den reicheren Teil der Bevölkerung darstellen. Auf korrupte Polizisten sind wir übrigens kein einziges Mal gestoßen. Wir wurden an allen Kontrollpunkten einfach durchgewinkt.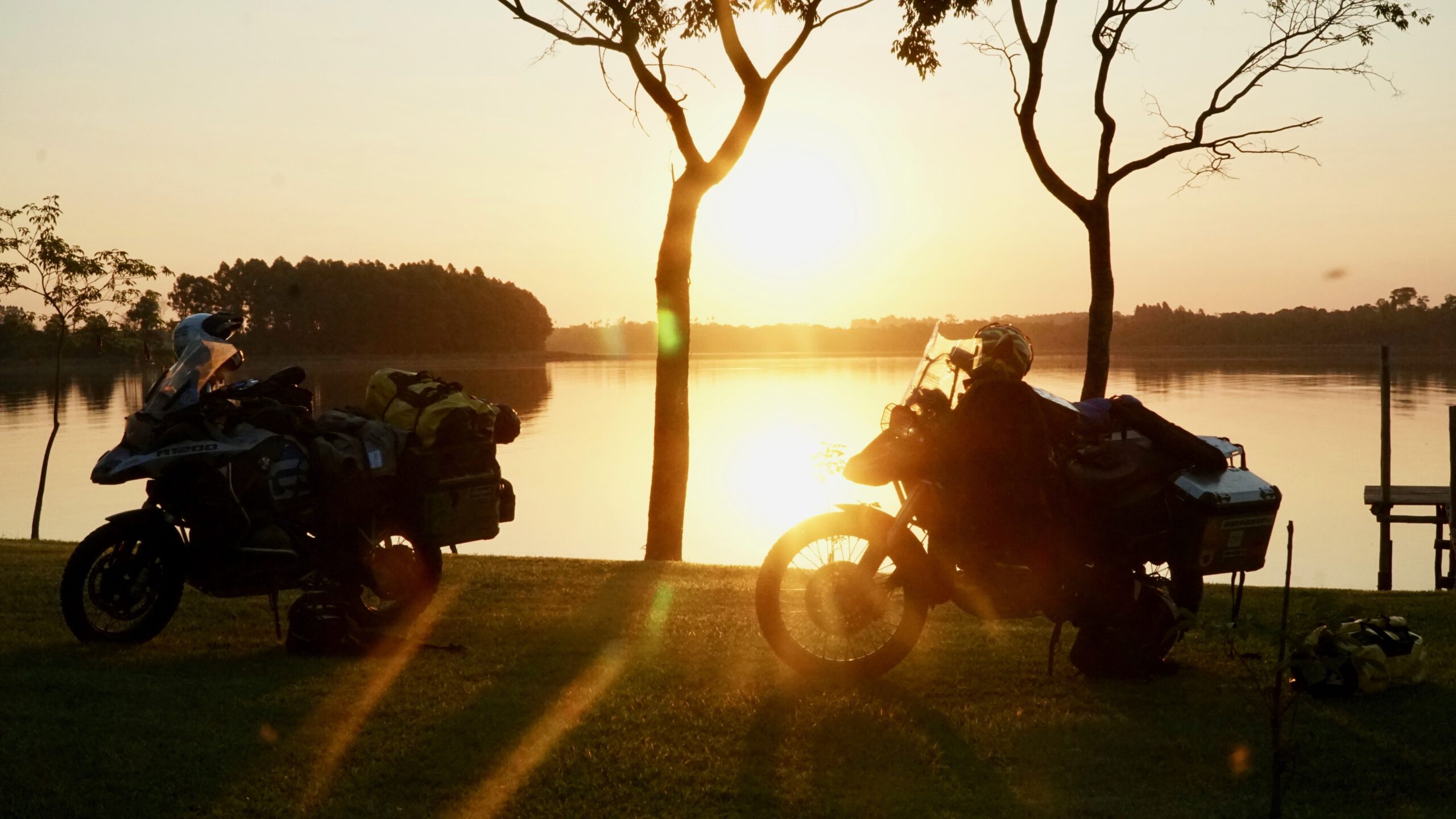 Wieder zurück in Argentinien ging es über Cordoba Richtung Küste. Die Halbinsel Valdes war unser Ziel. Dieses patagonische Naturreservat ist ein Tier-Paradies. Neben den allgegenwärtigen Guanakos haben wir zahlreiche Vögel, Pinguine, Robben und Marco bei einer Bootstour riesige Buckelwale mit ihren Jungen aus nächster Nähe beobachten können. Einzigartig macht diese Halbinsel aber der Umstand, dass es die weltweit einzige kontinentale Seeelefantenkolonie gibt, die sich dort fortpflanzt. Etwa 20.000 Tiere erreichen zwischen August und März eines Jahres die Strände, um sich zu paaren, zu gebären und zu häuten. Ungefähr 500 Harems, die aus 2 bis 130 Weibchen je Harem bestehen, bevölkern in dieser Zeit die rund 200 km lange Küste. Die dominanten Männchen können sich am Tag bis zu 15 Mal paaren… eine Zahl, die unweigerlich im Gedächtnis bleibt…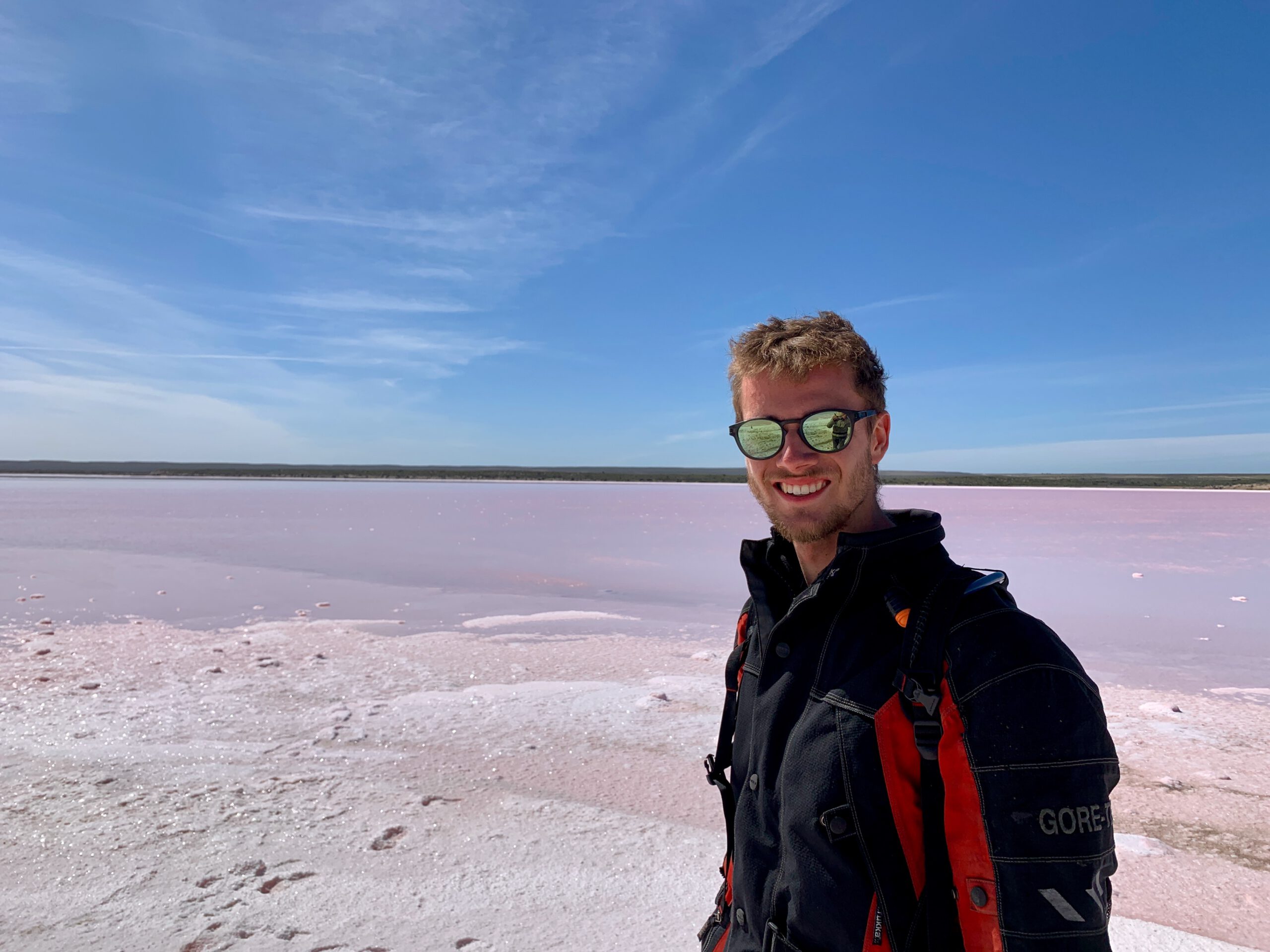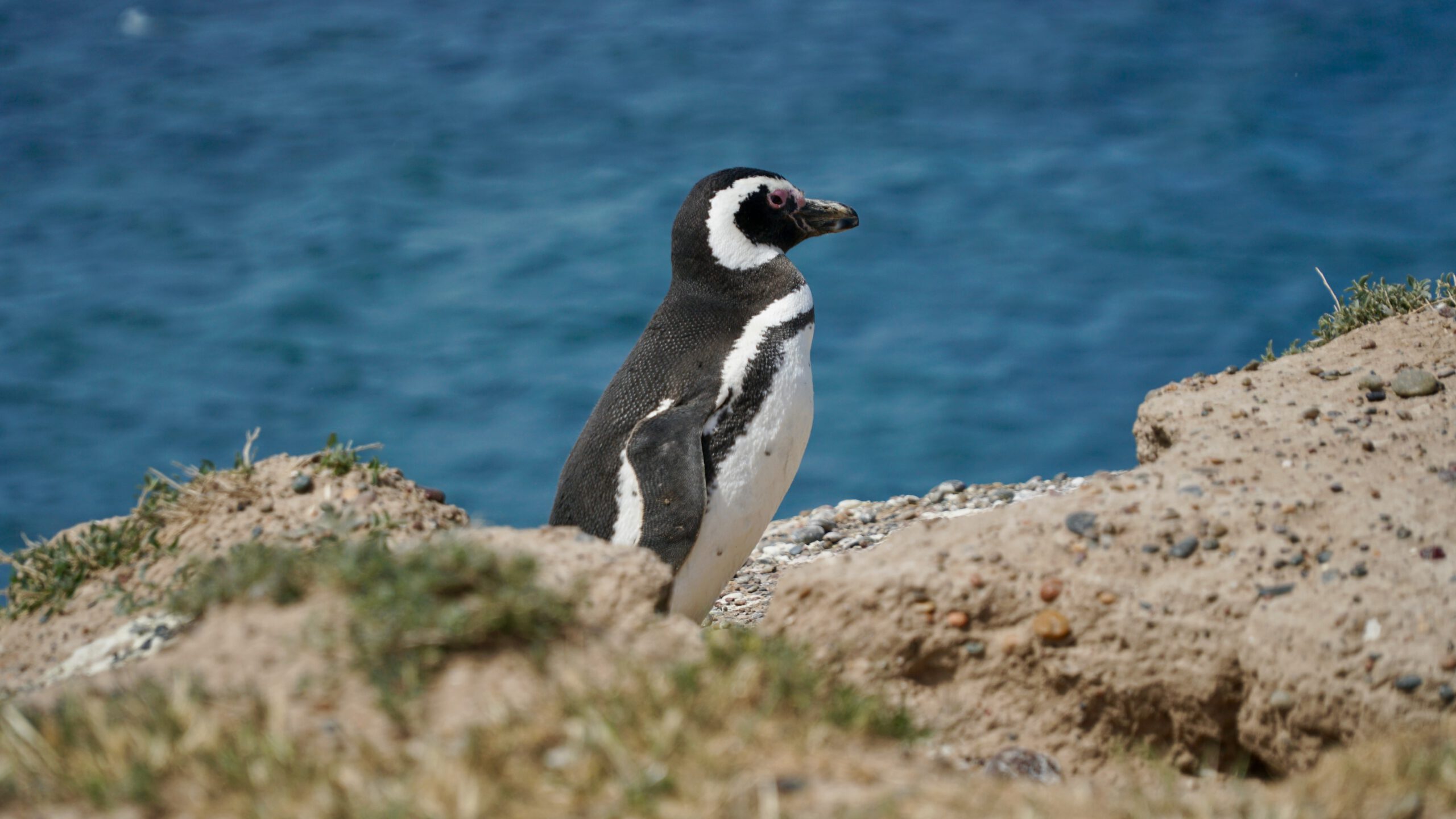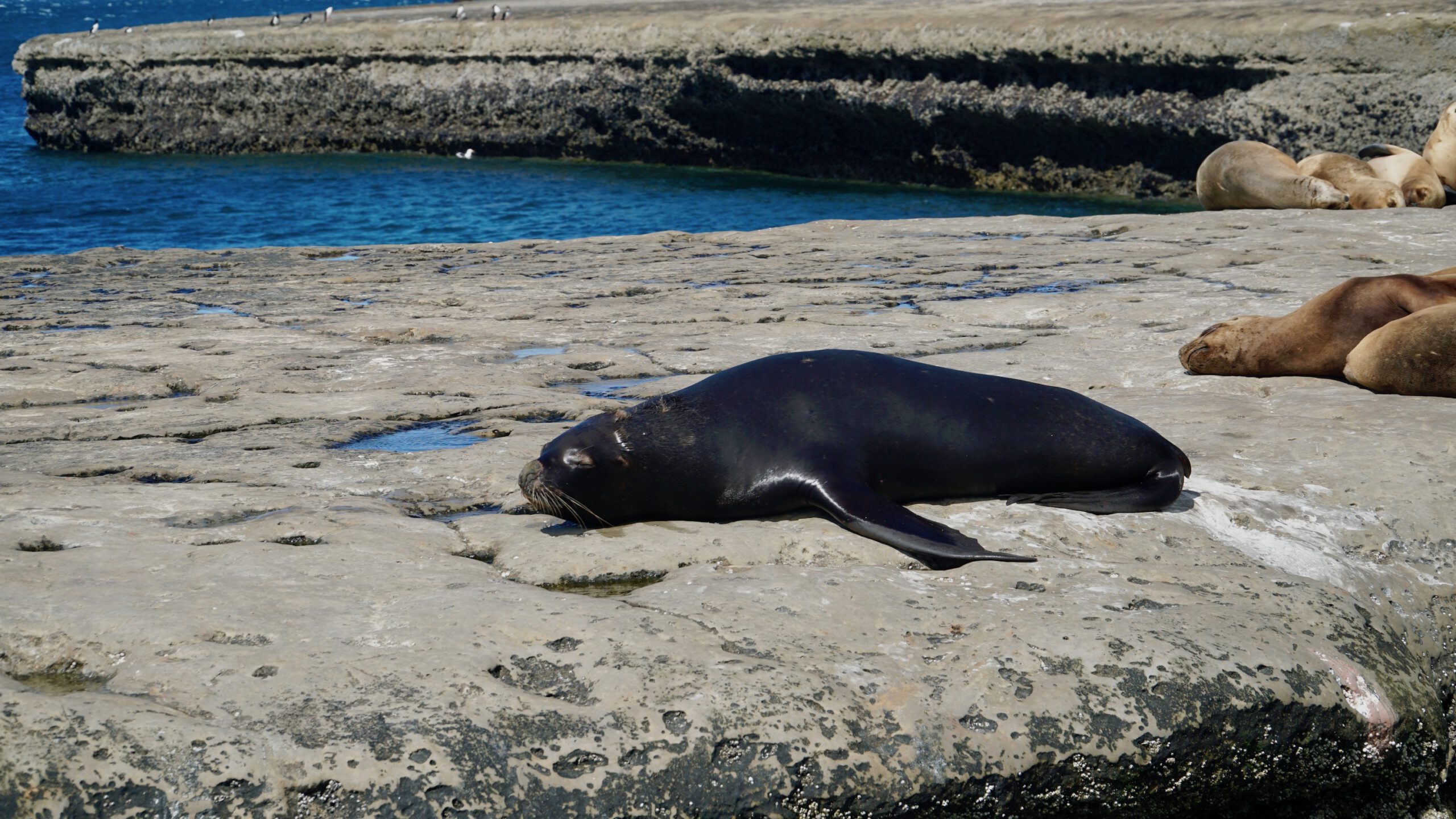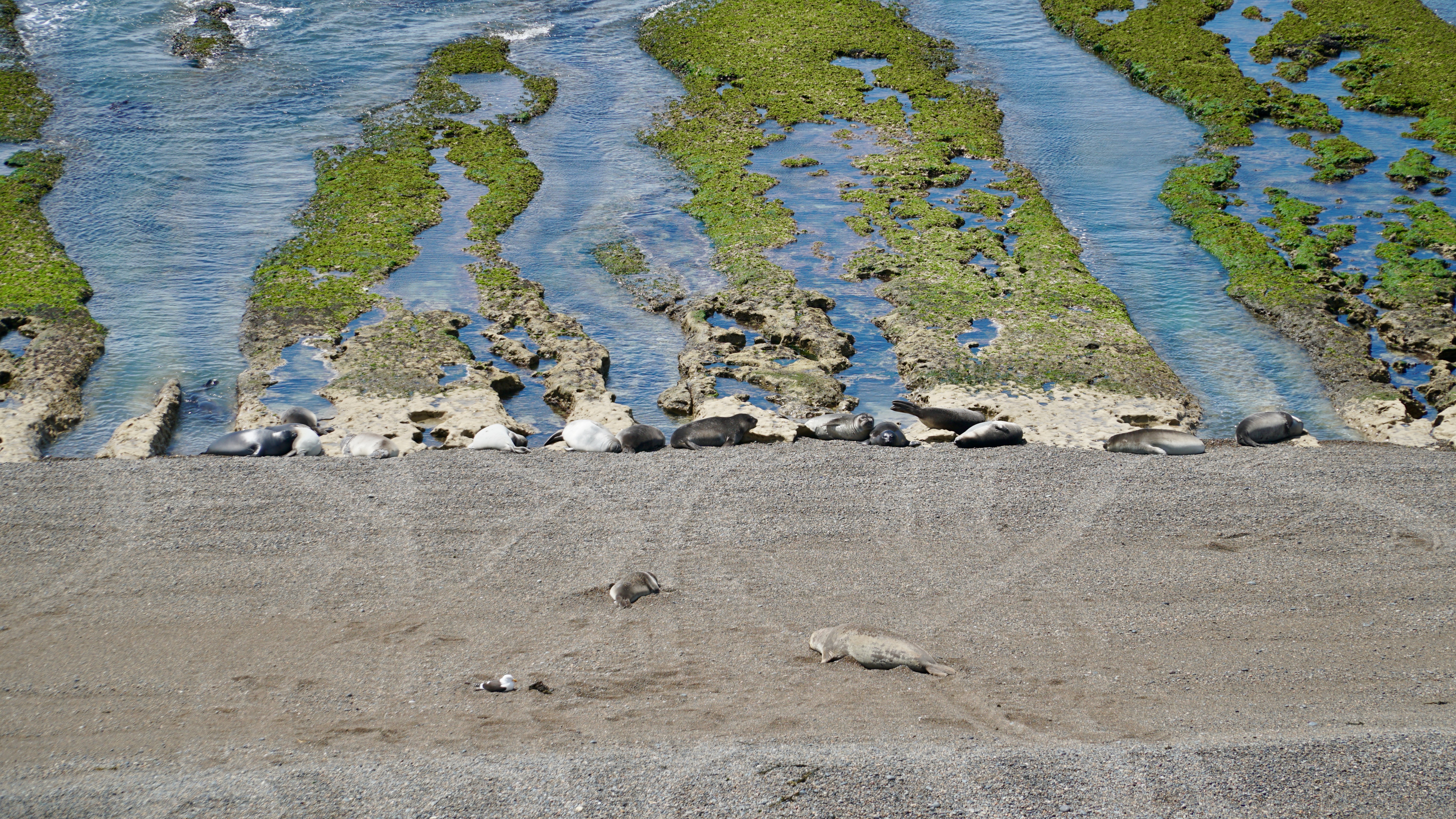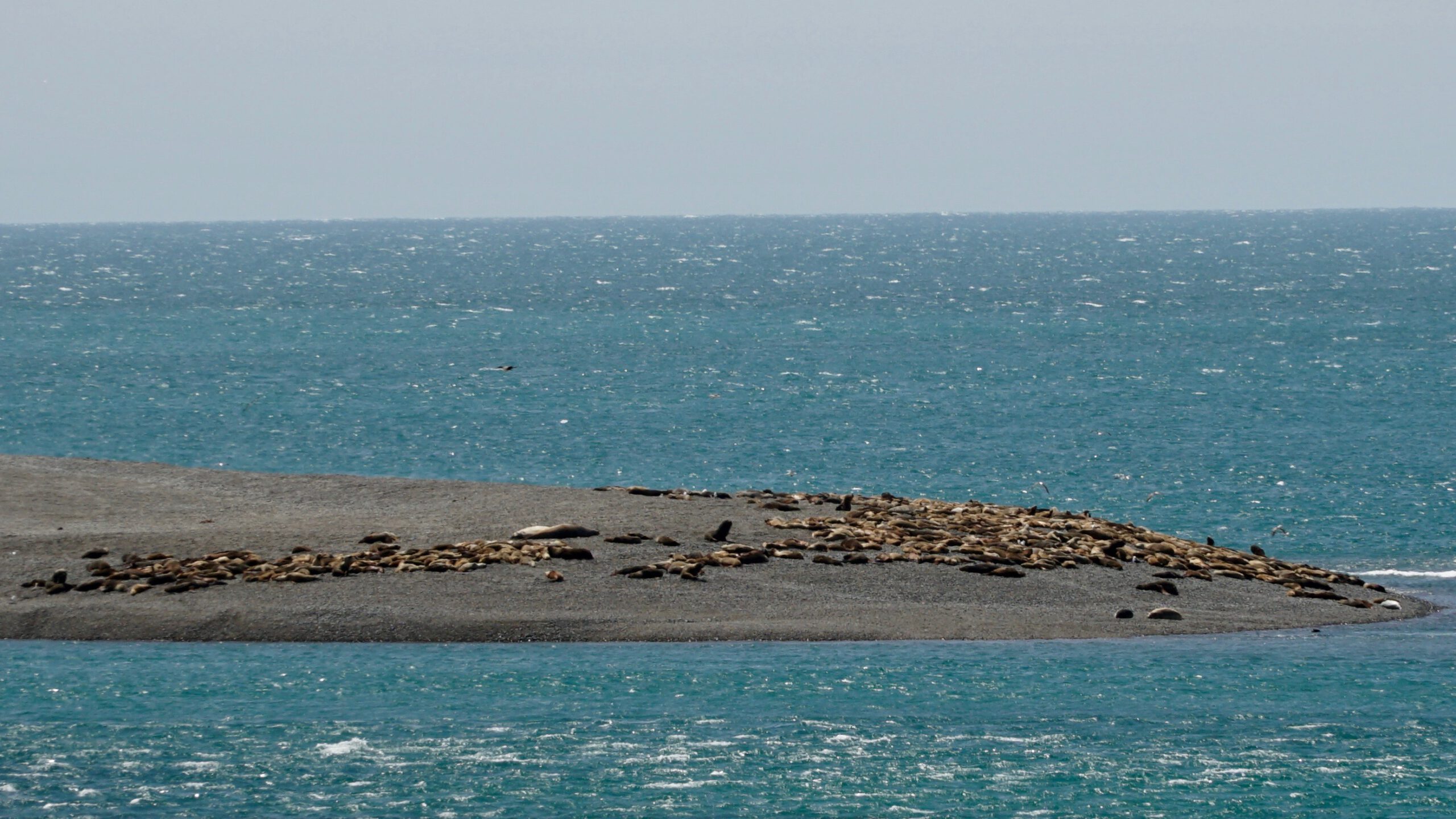 Im Gegensatz zum afrikanischen Kontinent, der sich aus 54 anerkannten Staaten zusammensetzt, sind es in Südamerika nur deren zwölf. Dementsprechend groß sind diese meist. Brasilien zählt mit seinen knapp 8,6 Mio. Quadratkilometern ebenso zu den Top Ten der Welt wie auch Argentinien mit 2.8 Mio. Deutschland mutet in diesem Vergleich mit 357.000 Quadratkilometern eher als Ministaat an. Entsprechend lang sind dort auch die Distanzen, die wir zurücklegten, um von Cordoba nach Ushuaia, der südlichsten Stadt der Welt zu gelangen. Auf teils endlos anmutenden Geraden durch die Pampa war der berüchtigte patagonische Wind unser ständiger Begleiter auf dem Weg nach Feuerland. Am Fin del Mundo, am Ende der Welt mit dem südlichsten anfahrbaren Punkt schlugen wir unser für immer südlichstes Nachtlager auf. Das Bild von Bier, Lagerfeuer, Zelt und Zigarre wird uns für ewig im Gedächtnis bleiben.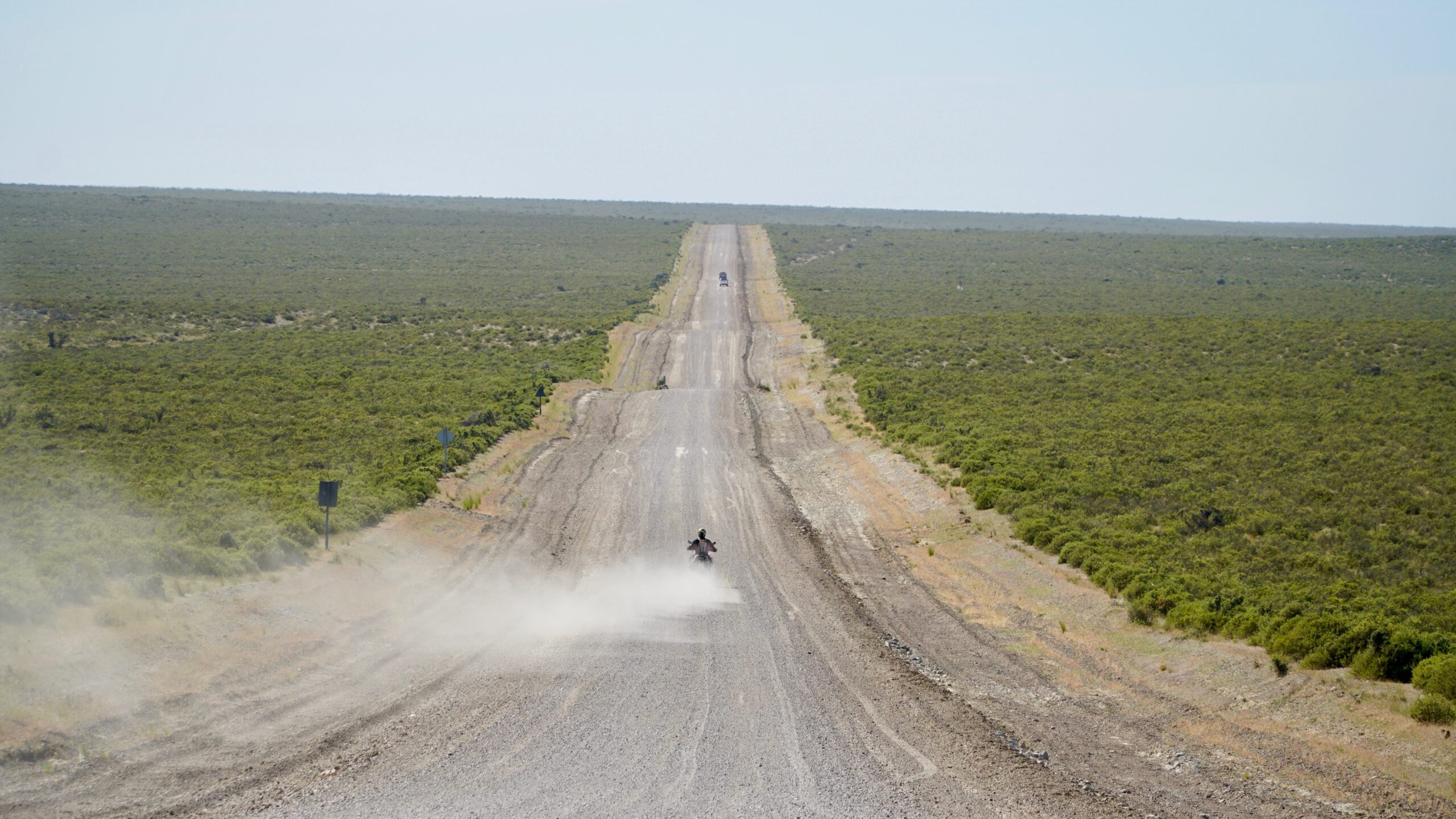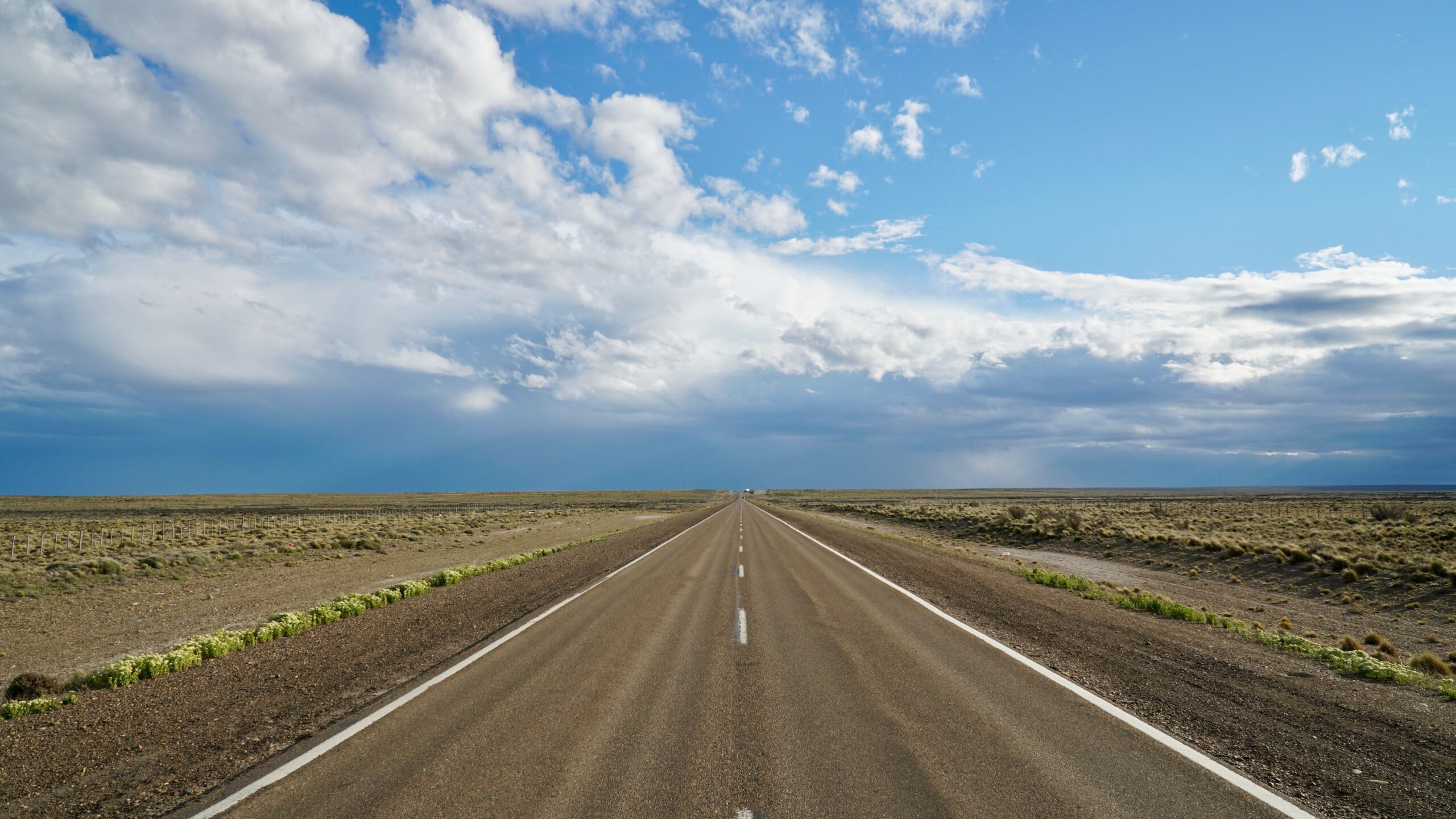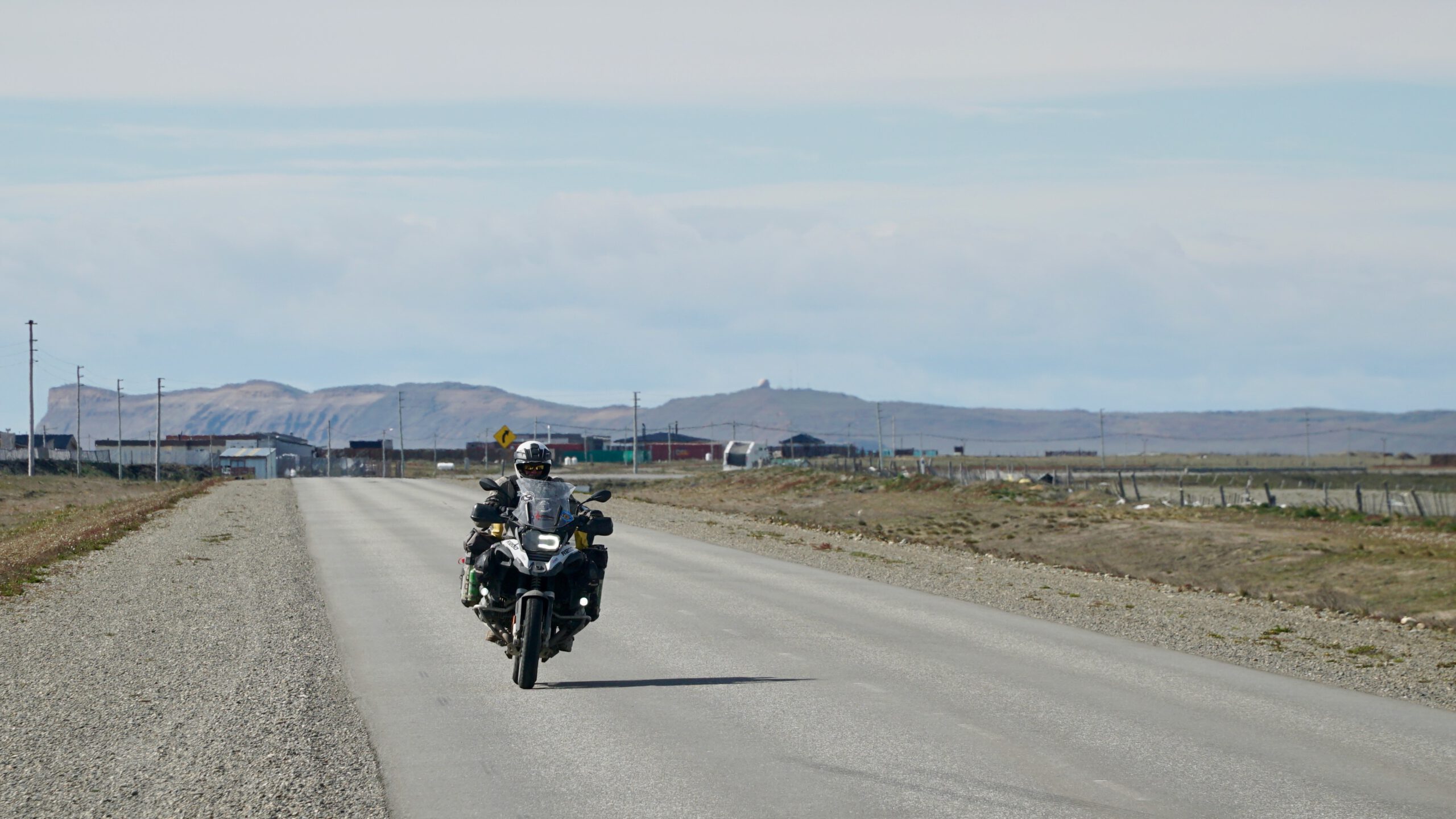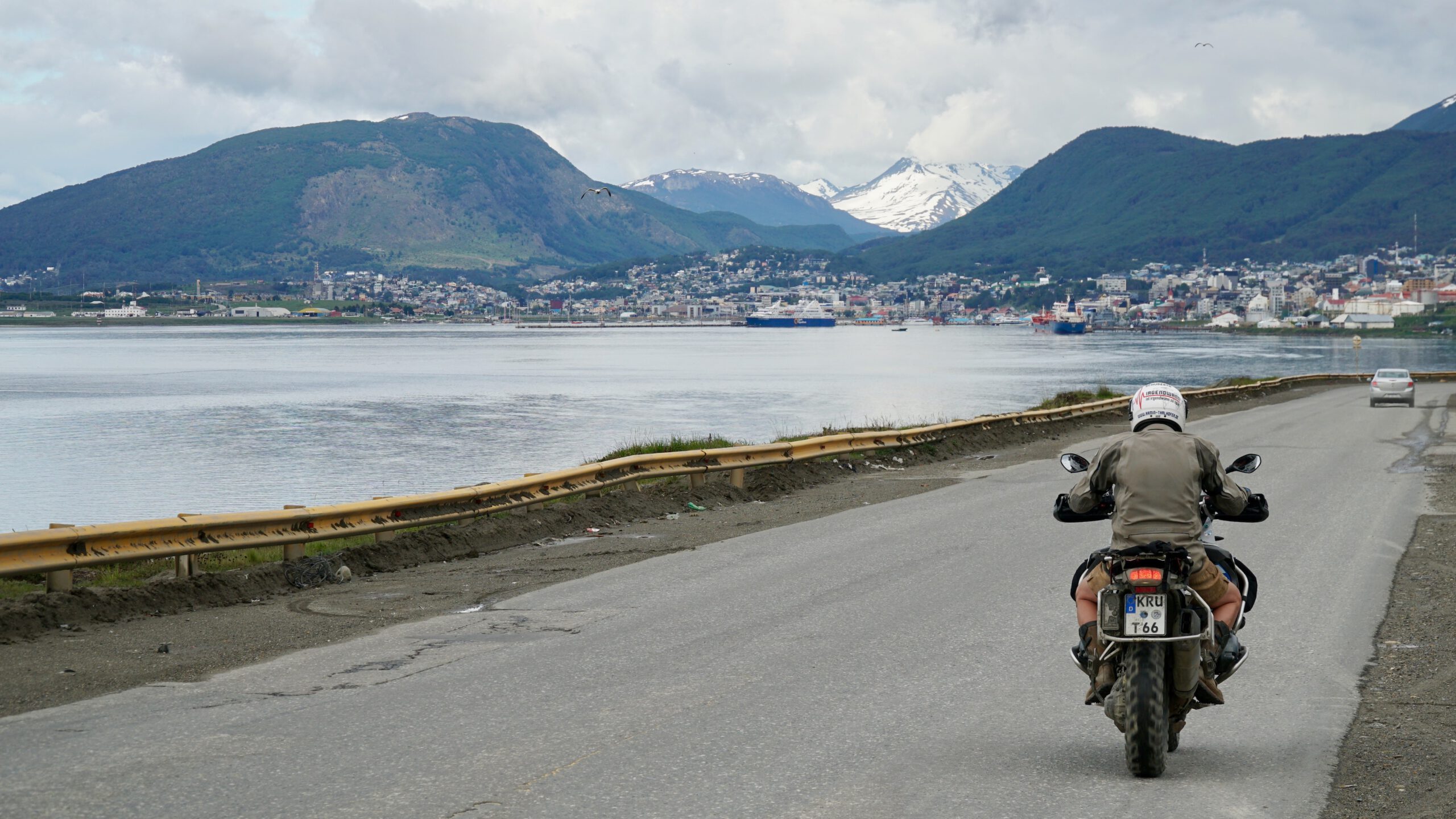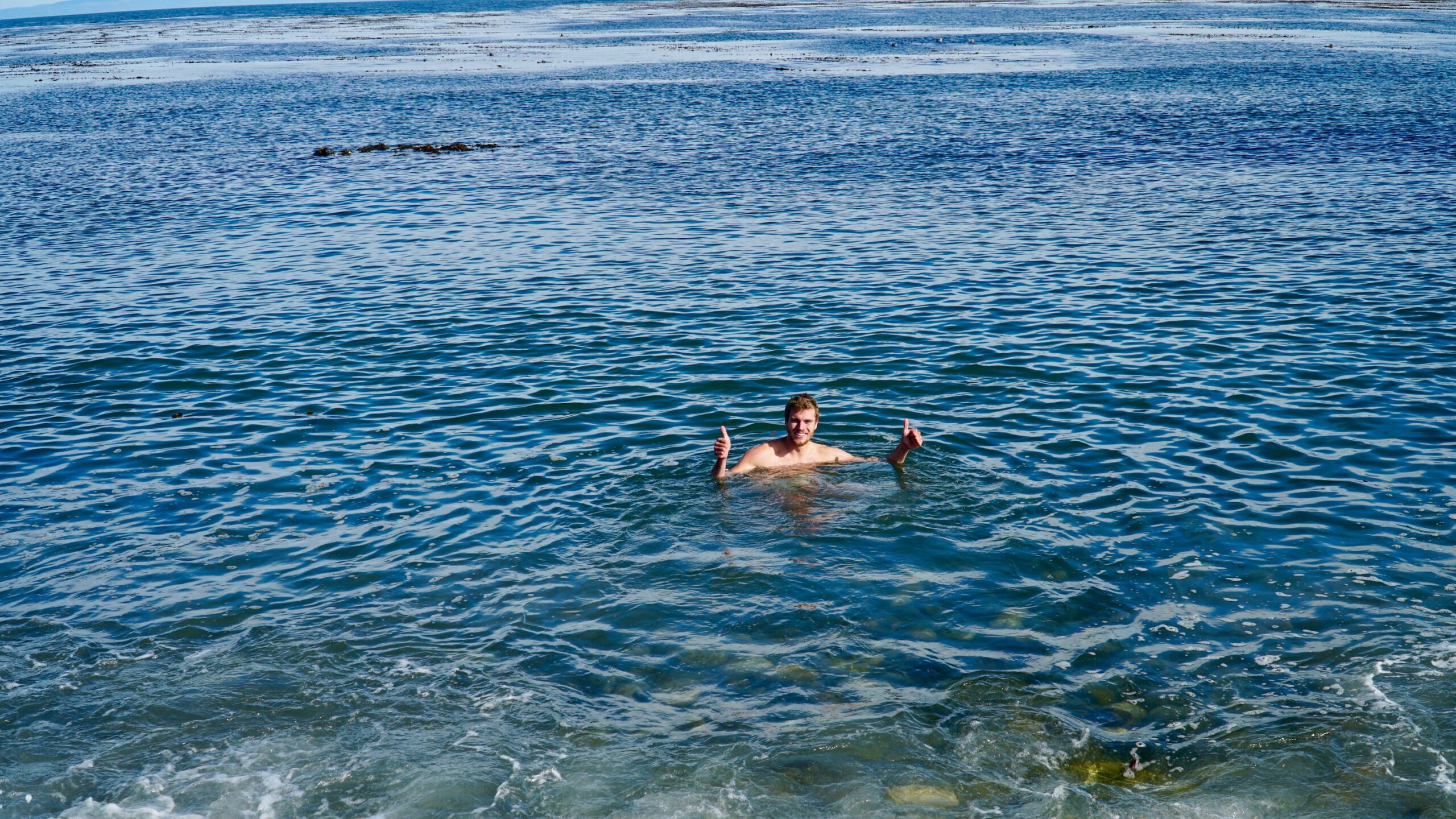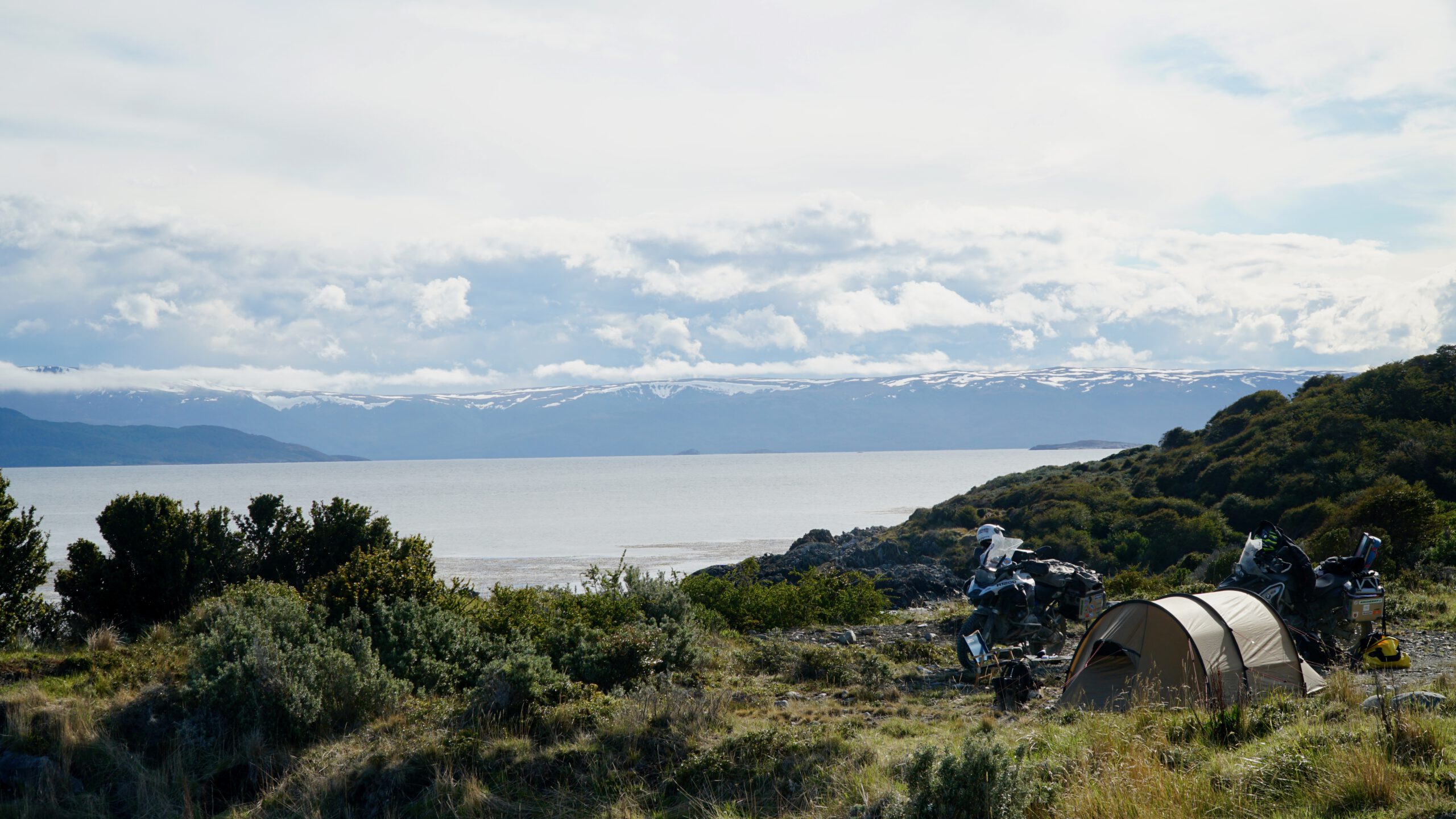 Mit Überquerung des Grenzübergangs am Paso Roballos nach Chile tauchten wir in eine erfrischend bunte, frühlingshafte Welt ein. Entlang der gesamten Carretera Austral blühten Bäume, Sträucher und Blumen. Die Farben und der Geruch waren eine Explosion für unsere Sinne nach der eher öden patagonischen Landschaft. Und wir befanden uns erstmals in den Anden. Unglaublich farbige Berge, faszinierende Vulkanlandschaften, beeindruckende Gletscher lagen auf unserem Weg. Auf dem 4.750 m hohen Paso Aqua Negra, einem der höchsten Grenzübergänge der Welt, stoßen wir in für uns bis dahin unvorstellbare Sphären vor. Codillera Paine, Perito Moreno, Fitz Roy, Llaima, Lonquimay, Paso Uspallata und Aqua Negra sind nicht nur Namen für Berge, Vulkane oder Passstraßen, sondern immerwährende Erinnerungen an die gewaltige und faszinierende Natur auf diesem Kontinent.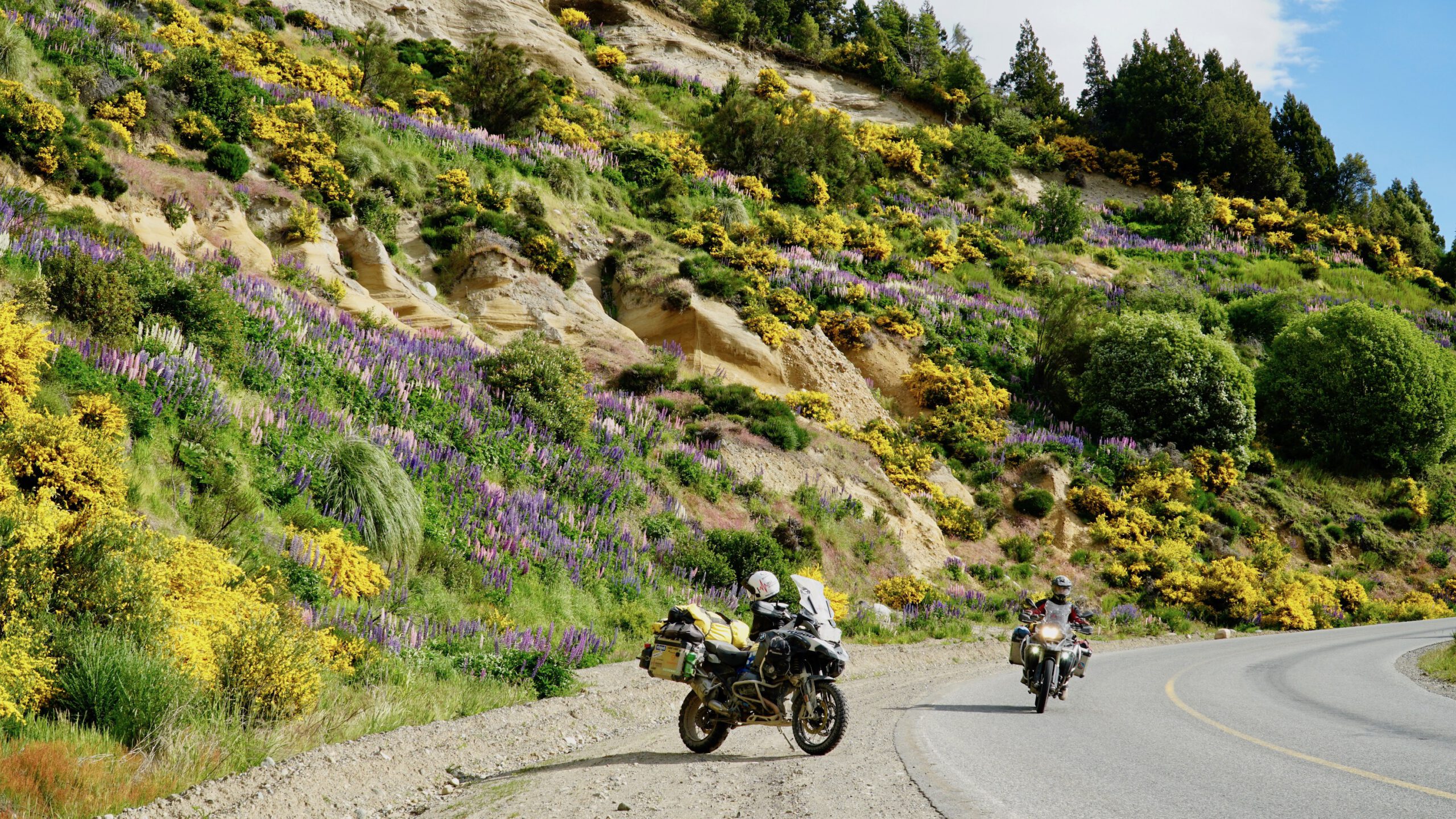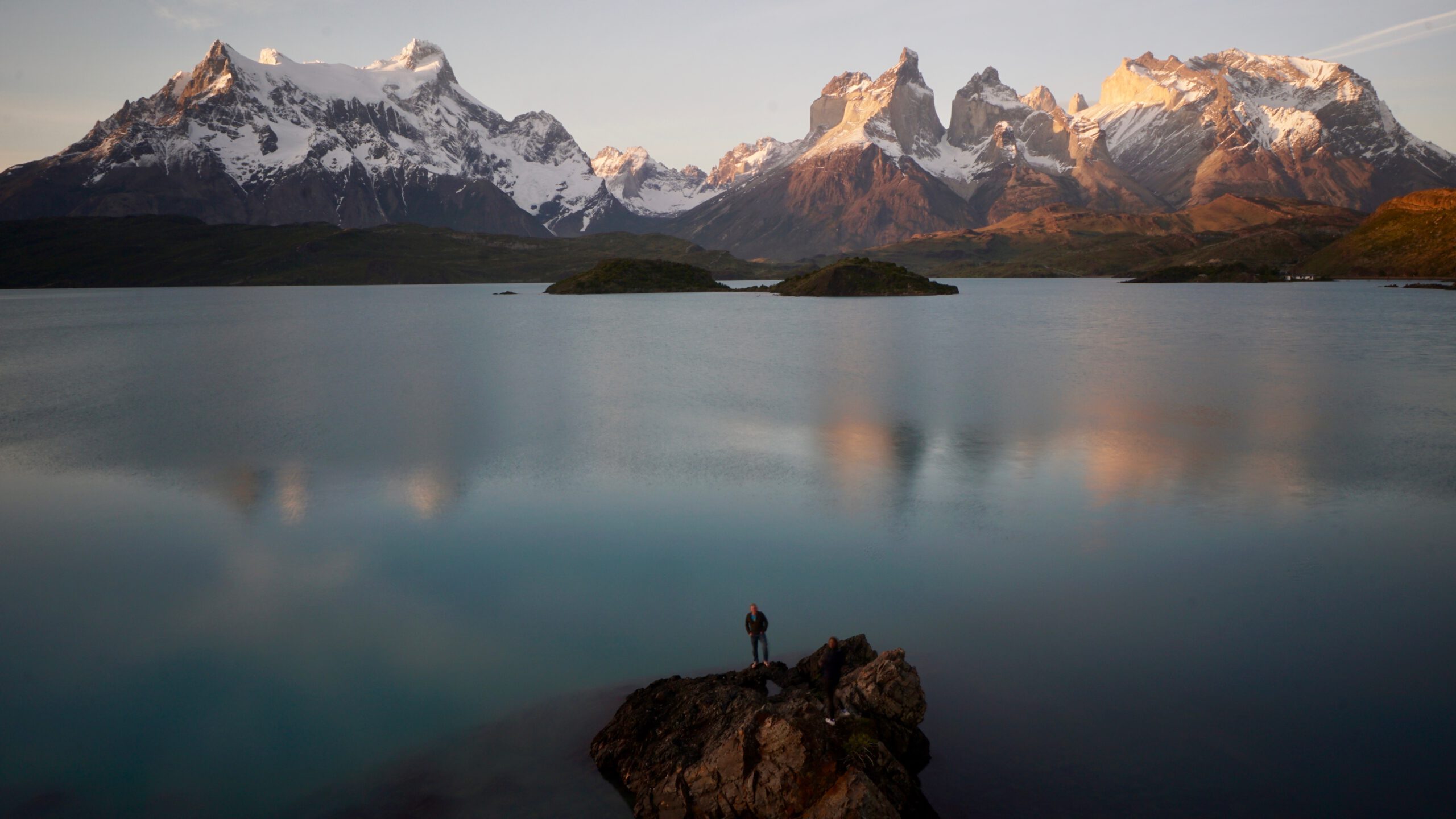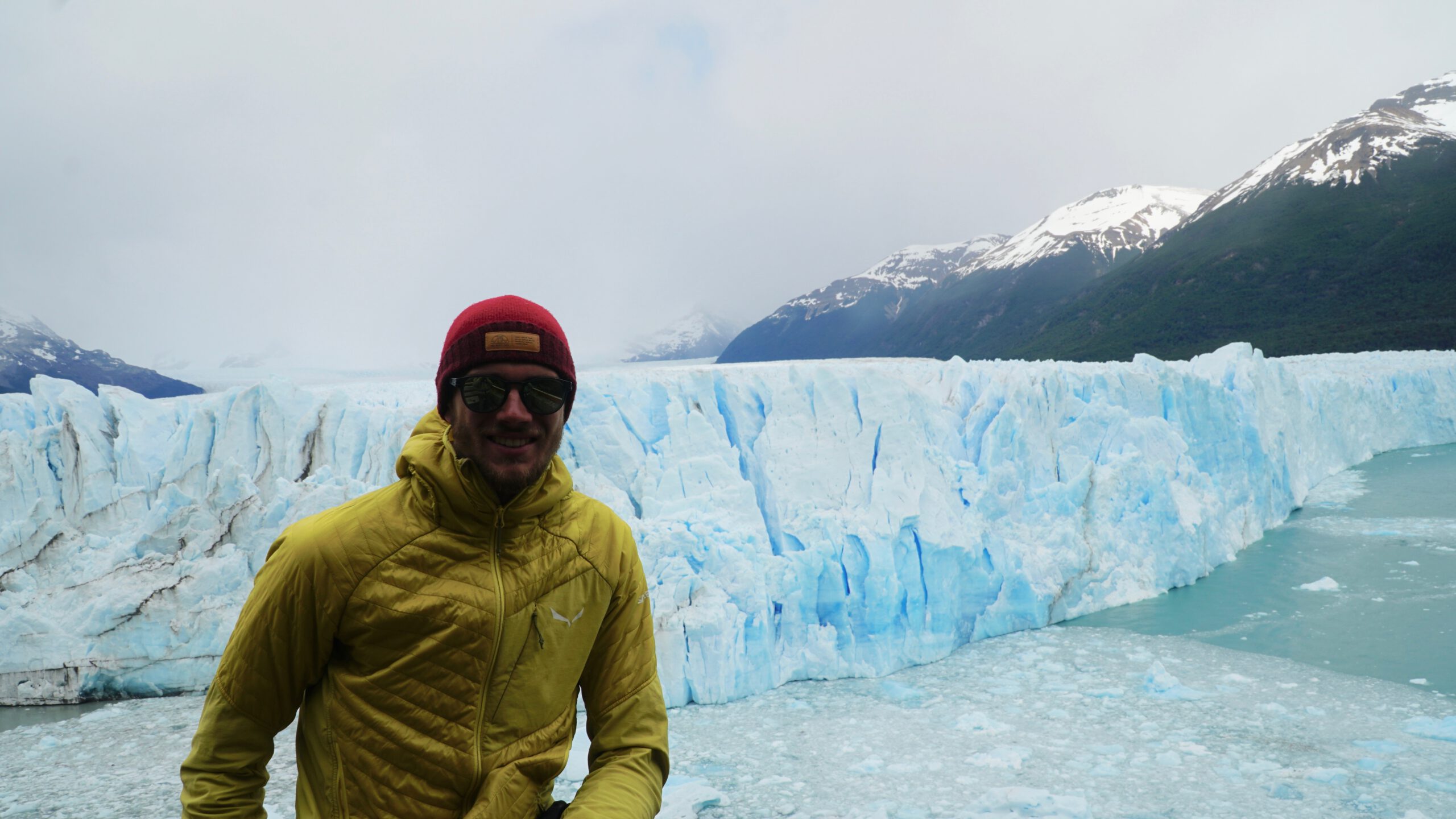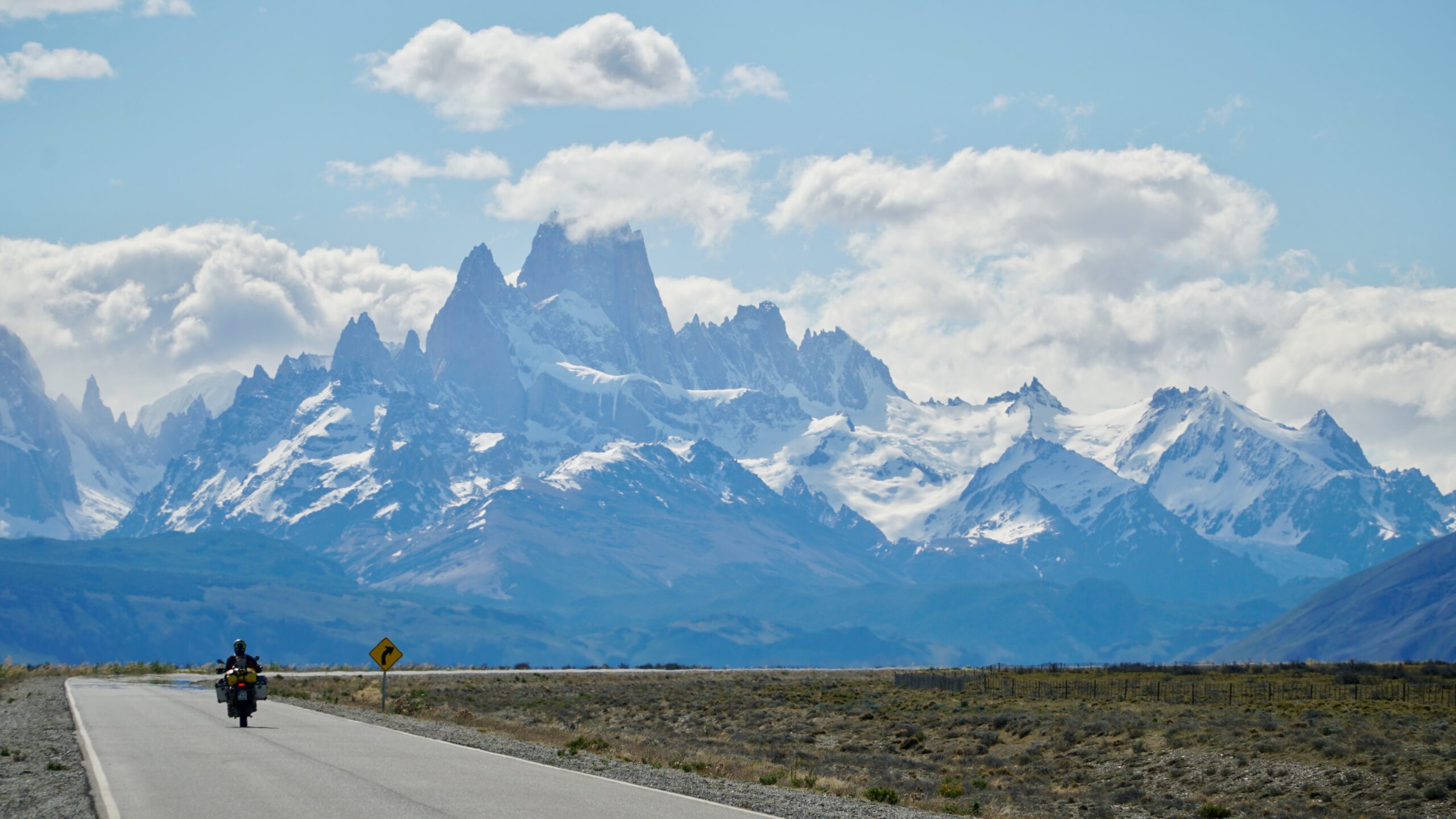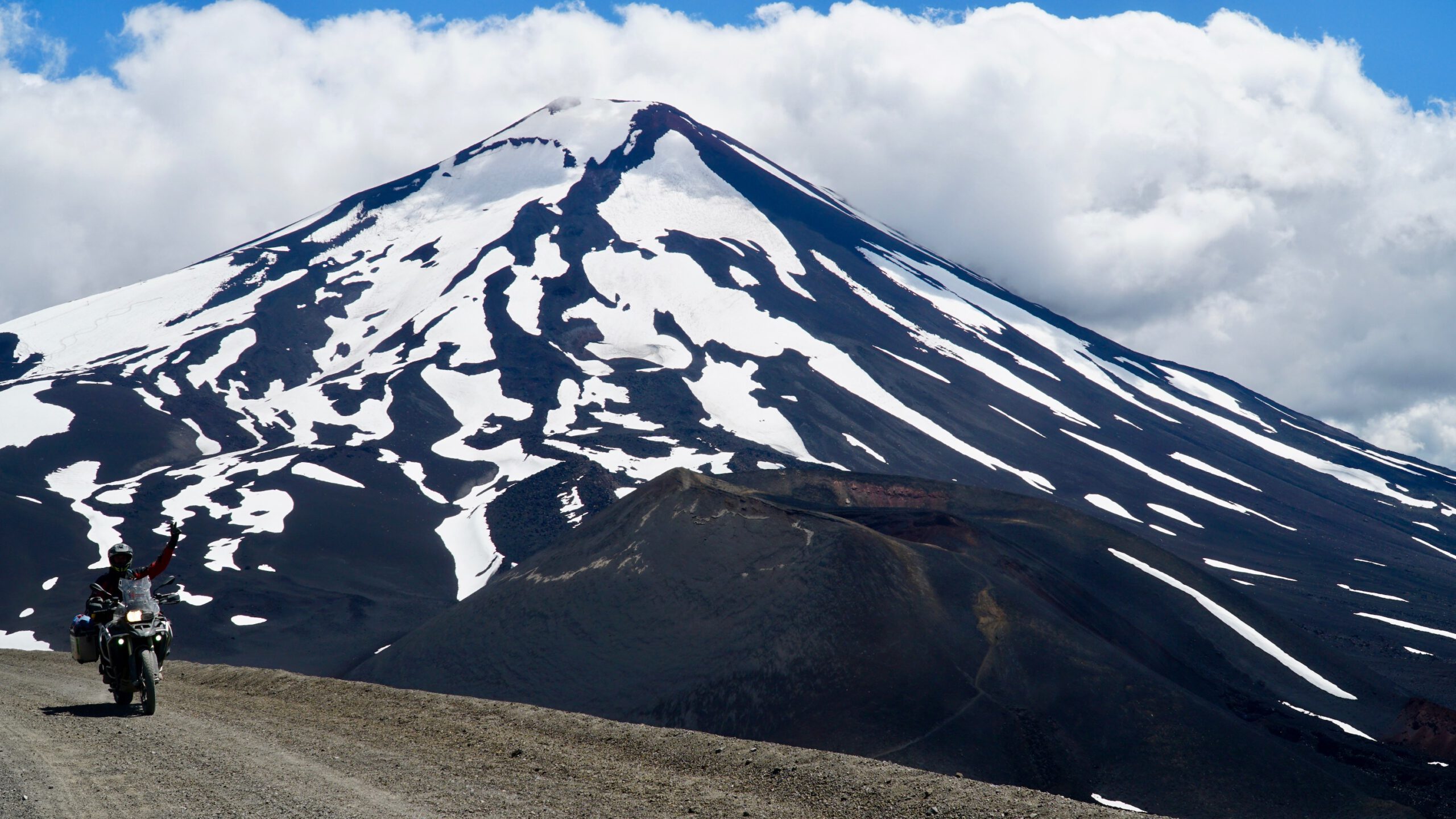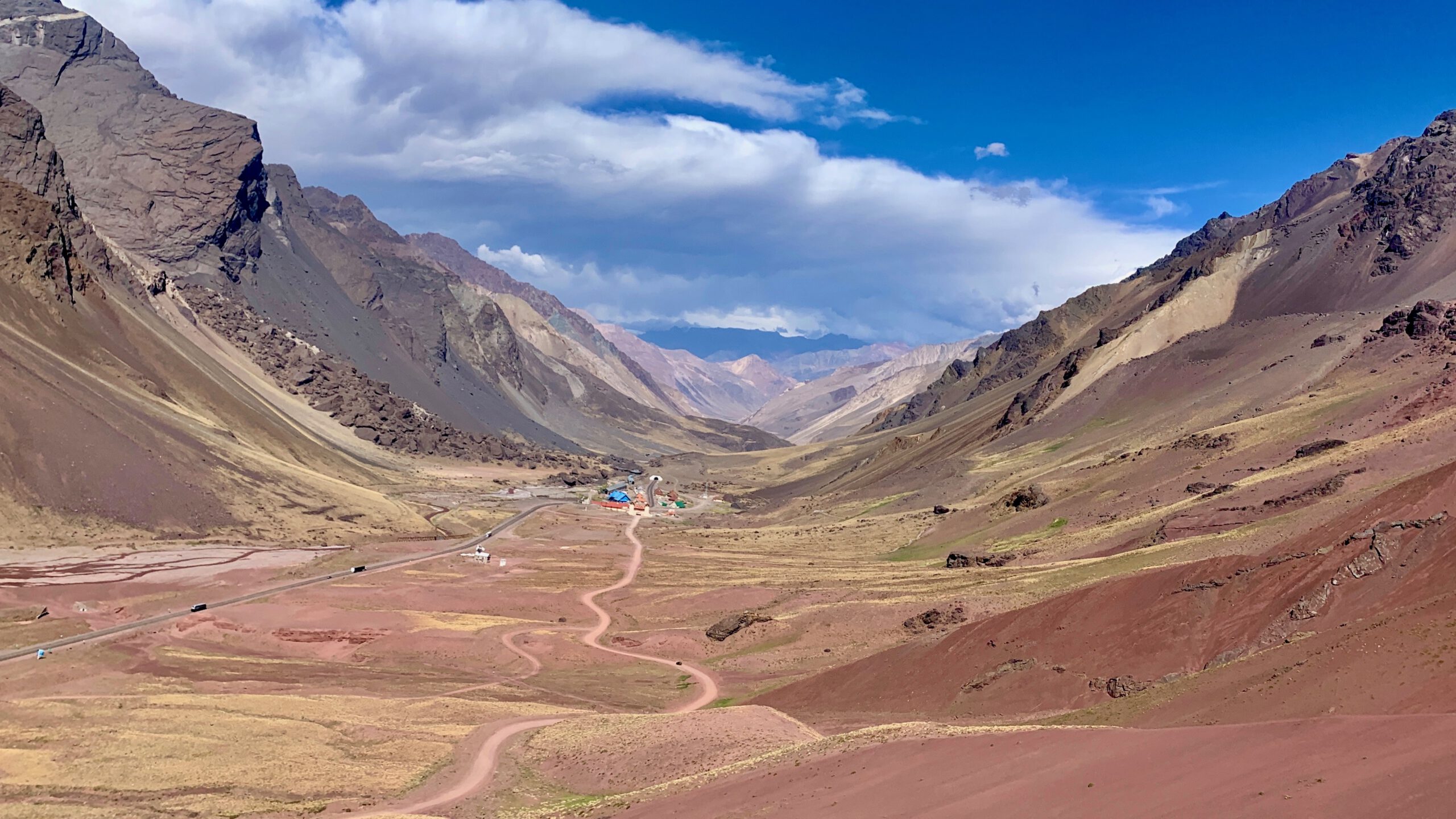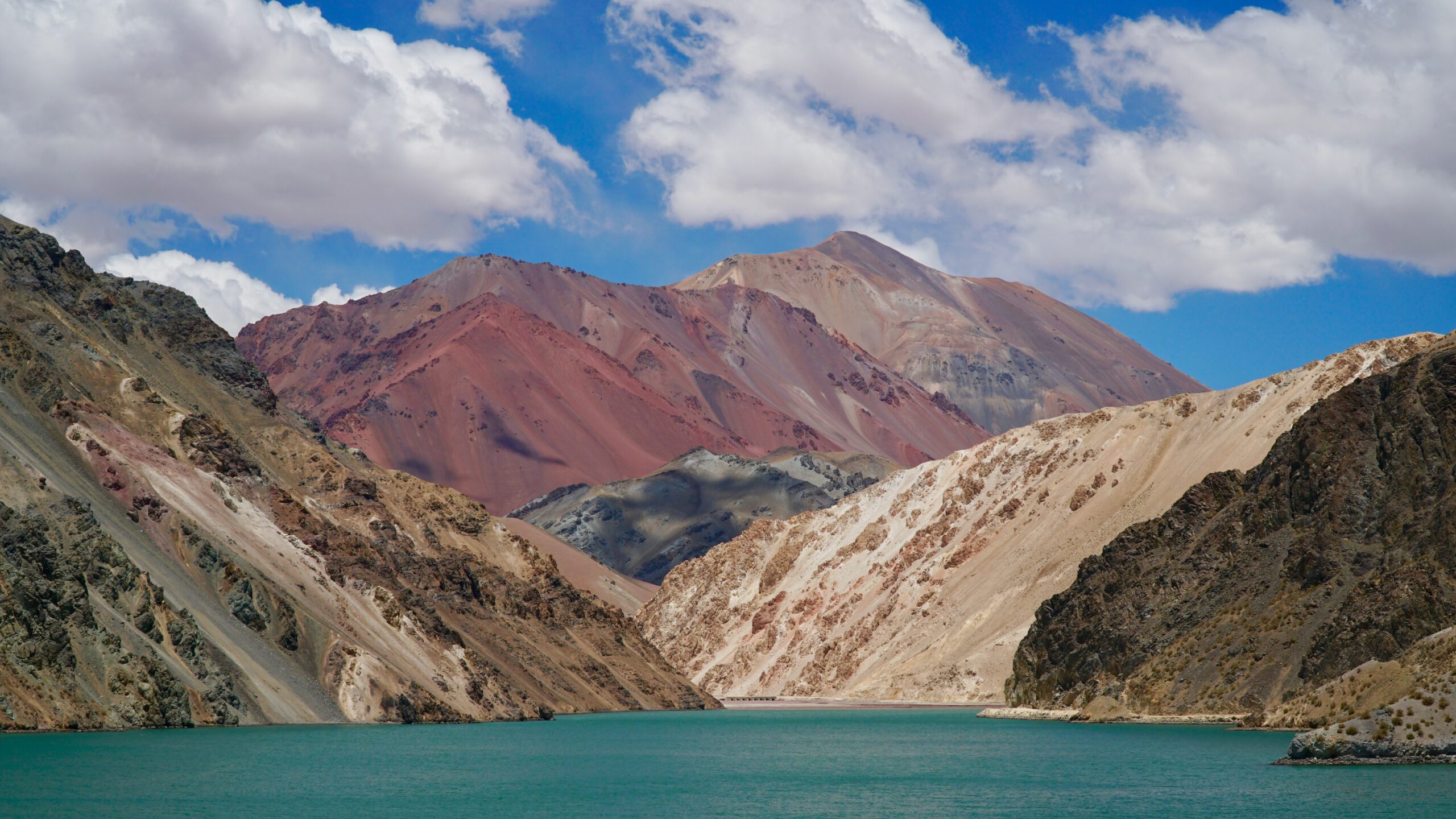 Insgesamt haben wir fünfmal die Grenze zwischen Argentinien und Chile, dem mit 4.275 km längsten und schmälsten Land der Erde, überquert und tauchten dann mit Bolivien abermals in eine komplett andere Welt ein. Erstmals fühlte ich mich wieder an Afrika erinnert. Bolivien war sichtbar ärmer, die Menschen deutlich dunkler als in den Ländern zuvor. Auf den unzähligen Märkten gab es von Nahrungsmitteln über Kleidung bis hin zu Autoersatzteilen alles zu kaufen. Und wir bewegten uns auf dem Altiplano fast drei Wochen permanent auf einer Höhe jenseits der Dreitausender Marke. Das absolute Highlight war jedoch der im Südwesten liegende Salar de Uyuni. Diese, mit mehr als 10.000 Quadratkilometer größte Salzpfanne der Erde, fesselte uns mit seiner schier unendlichen weißen Weite und einem unvergesslichen Sonnenuntergang auf der spiegelgleichen Oberfläche des aufgrund der Regenzeit mit wenigen Zentimetern Wasser bedeckten Sees.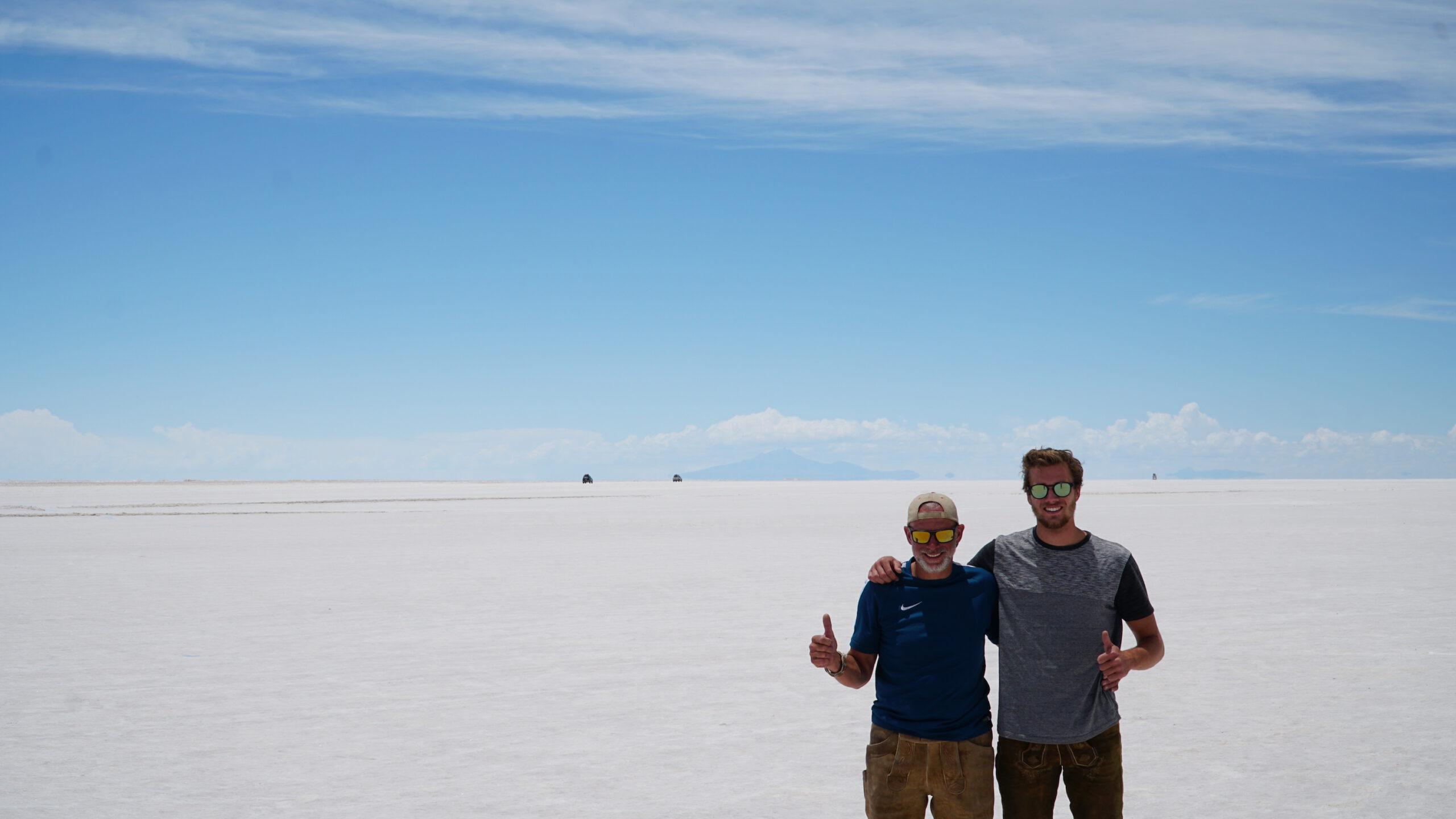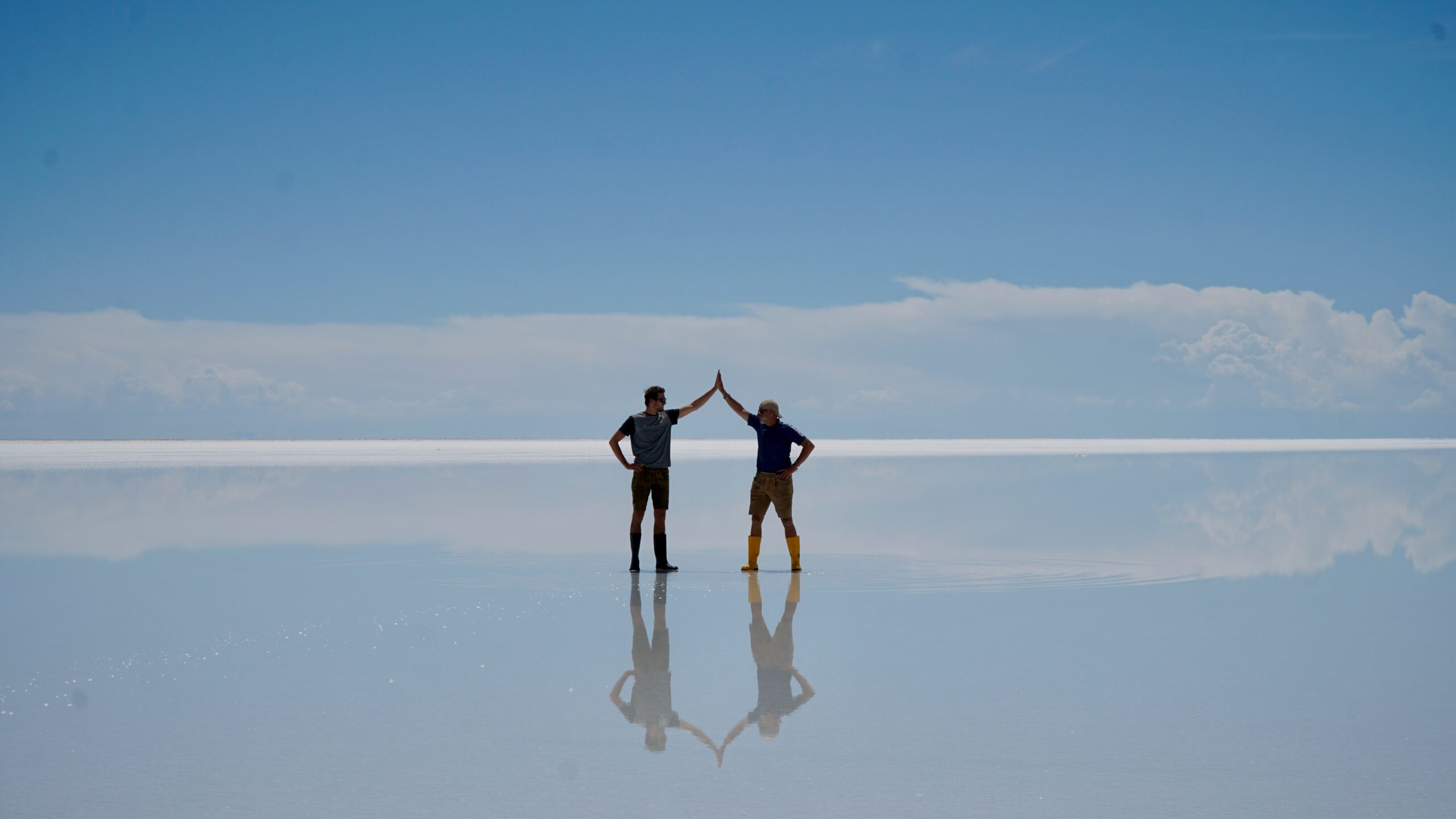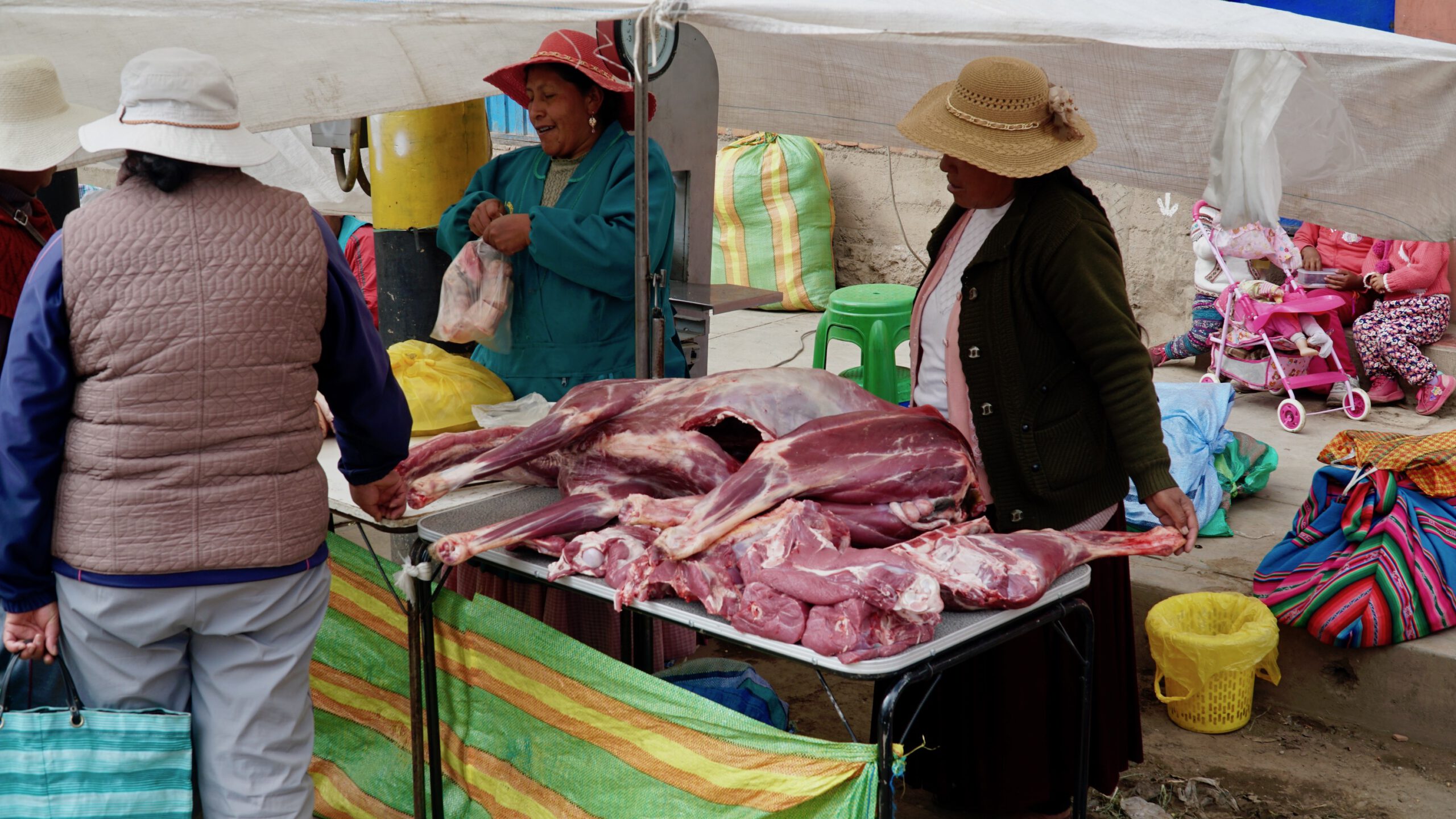 Über den Titicacasee, der fast 13 Mal so groß wie der Bodensee und bis zu 365 Meter tief ist, gelangten wir von Bolivien nach Peru. Machu Picchu war beeindruckend. Unglaublich welch bauliche Leistung dort im 15. Jahrhundert von den Inkas vollbracht wurde. Lamas und Alpakas auf dem Altiplano machten das Land für uns ebenso einzigartig wie die weitläufigen Wüstengebiete an der Küste im Norden. Leider bleibt mir jedoch Peru auch als Land mit einer vorher nicht gekannten Umweltverschmutzung in Erinnerung. Ganze Landstriche, insbesondere im Norden entlang der Pan Americana und rund um Dörfer und Städte, sind riesige Müllkippen. Schwelender Müll ließ einem manchmal kaum noch Luft zum Atmen.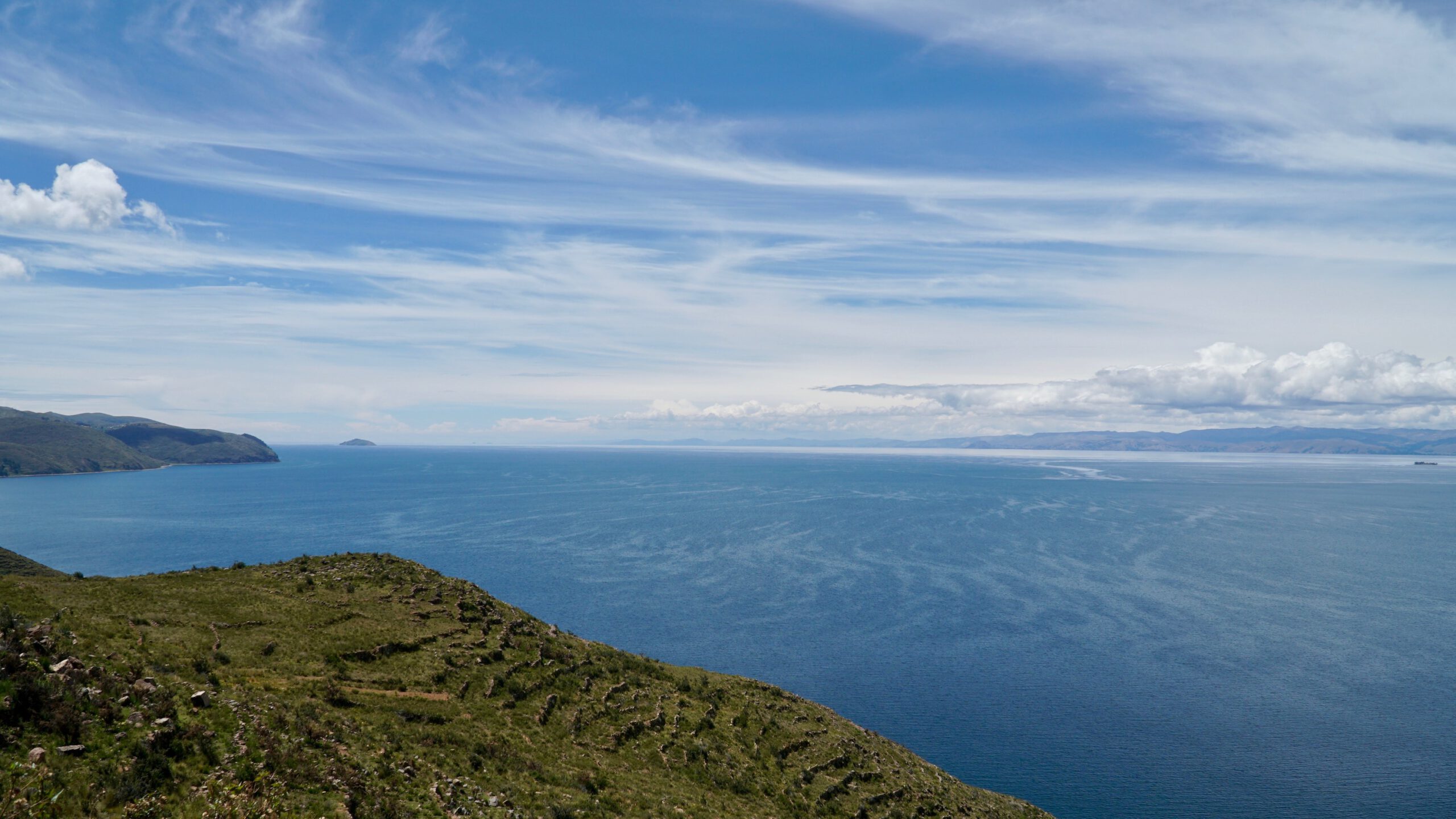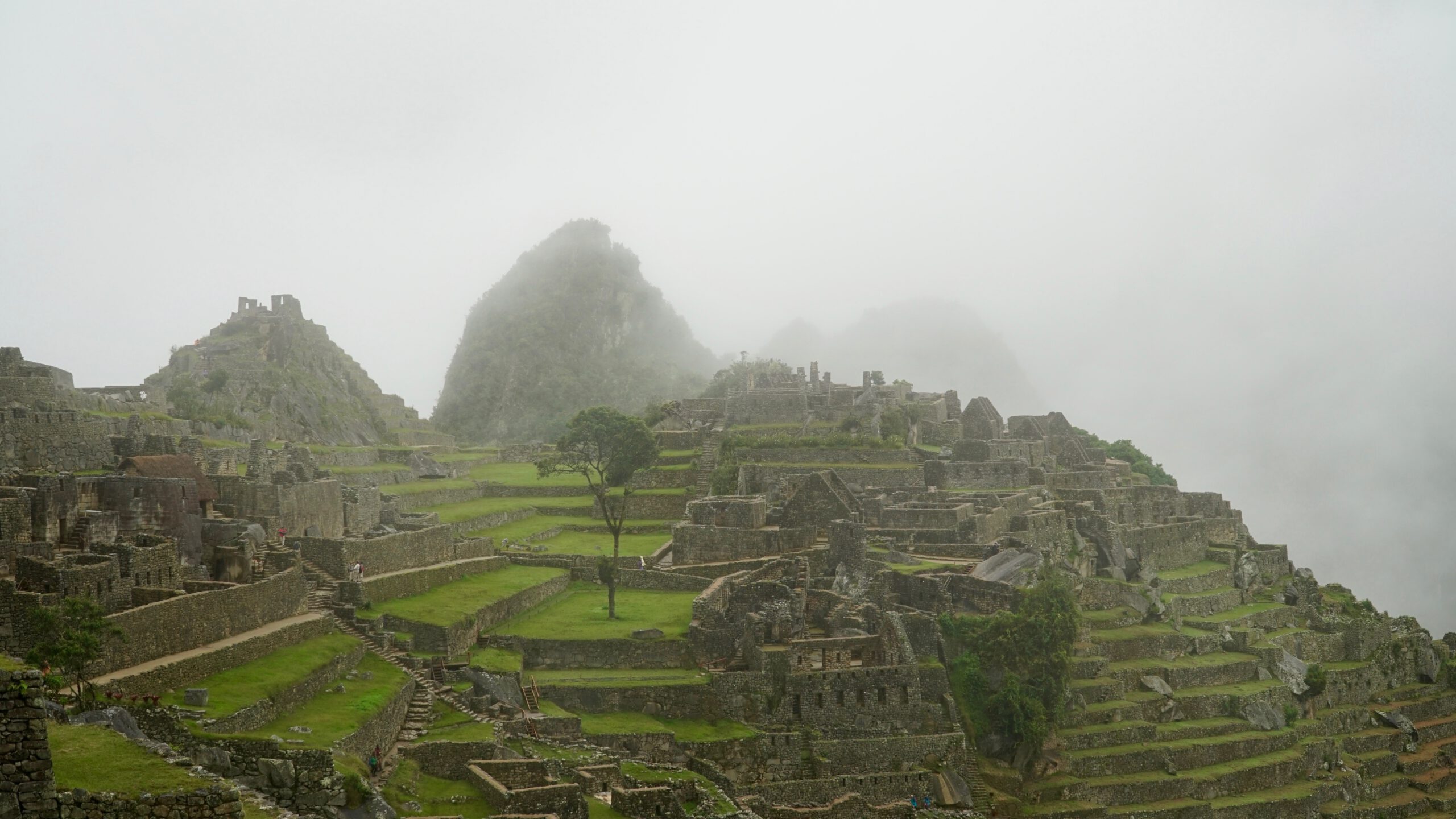 In Ecuador waren die Galapagos Inseln unser letztes gemeinsames Ziel. Ein perfekter und nach den Strapazen der vergangenen fünf Monate durchaus luxuriöser Abschluss unserer gemeinsamen Reise. Wie geplant trennten wir uns danach in Guayaquil als die Corona-Welt in Südamerika noch in Ordnung war. Für Marco ging es zurück nach Lima von wo aus er sein Moped verschiffen wollte, für mich über die Berge in Ecuador weiter nach Kolumbien.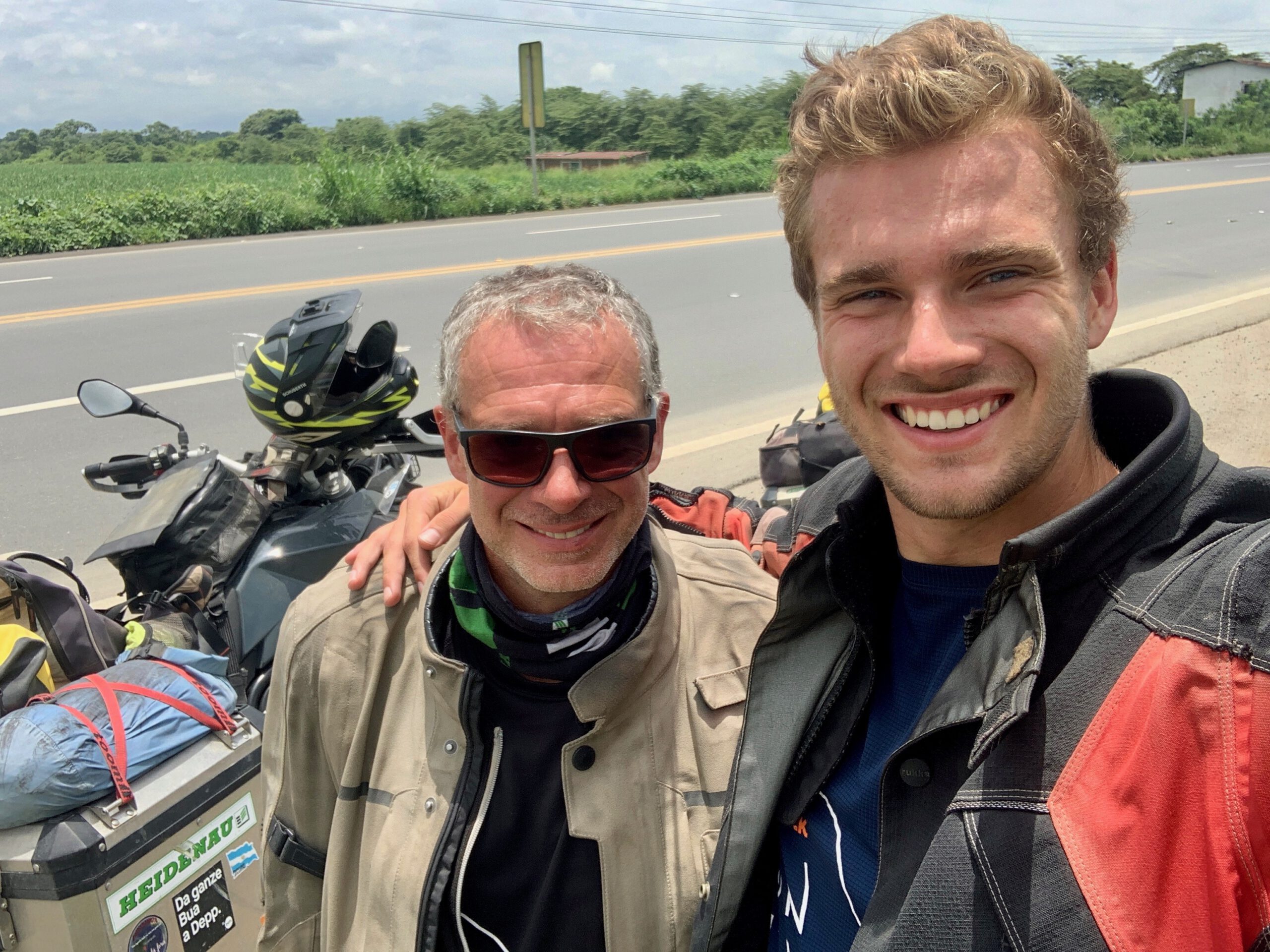 Doch binnen einer Woche änderte sich auch dort Tag für Tag die Situation. Grenzen wurden geschlossen, internationale und nationale Flüge ausgesetzt und wir steckten mit Peru und Kolumbien in unterschiedlichen Ländern fest. So kam es, dass ich völlig ungeplant noch vor Marco zurück in der Heimat angekommen bin.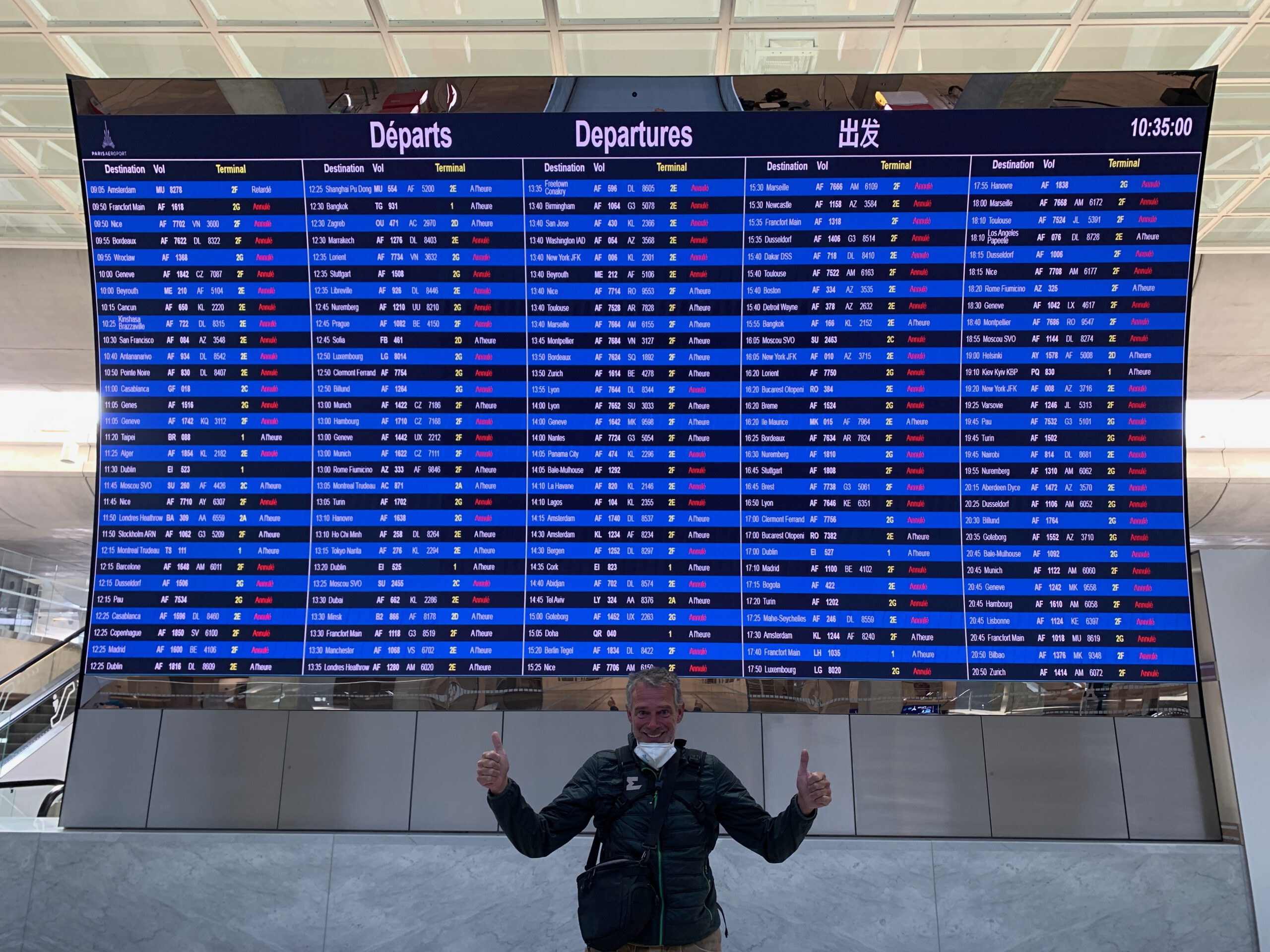 Meine Route führte mich während meiner 358-tägigen Reise mit mehr als 57.000 km nicht selten über teils katastrophale Schlagloch-/Wellblech-/Matsch- und Sandpisten, die mir einiges abverlangten und mich manchmal ebenso an meine physischen Grenzen brachten wie Temperaturen von bis zu 50 Grad. Grenzübertritte in Afrika waren oftmals kompliziert und zeitraubend. Es war nicht immer einfach, aber HAKUNA MATATA! Es gibt keine unlösbaren Probleme, alles ist machbar!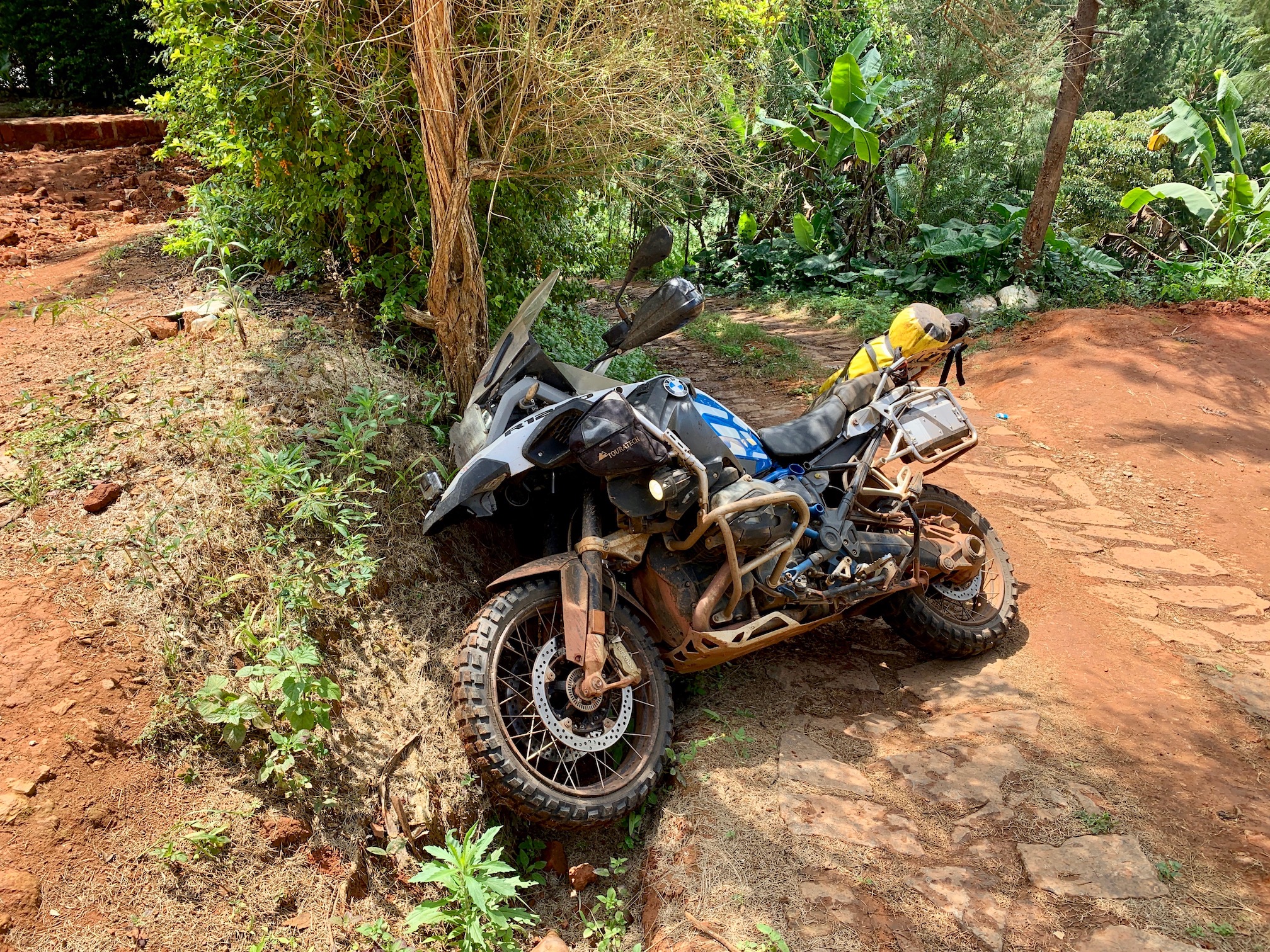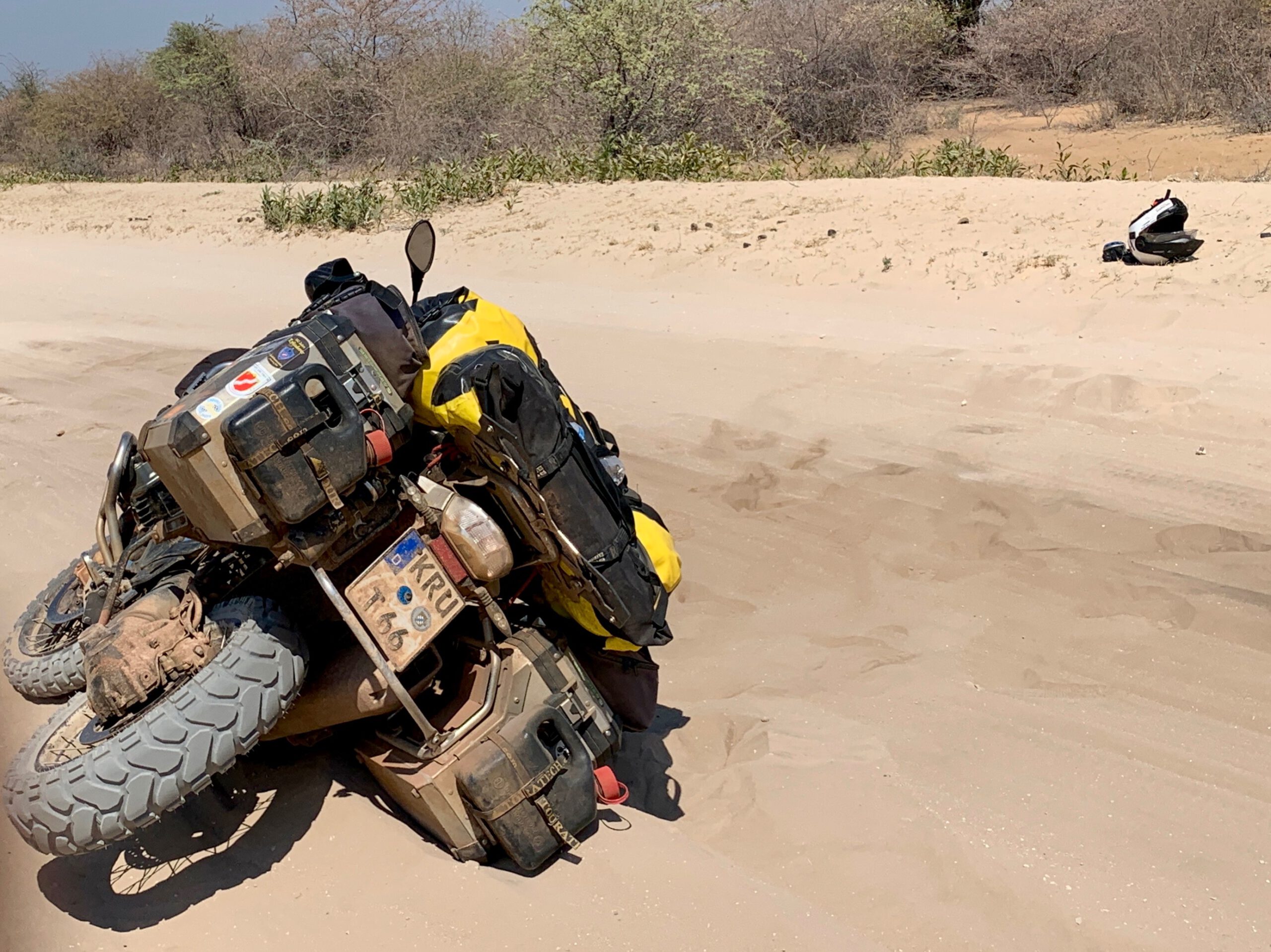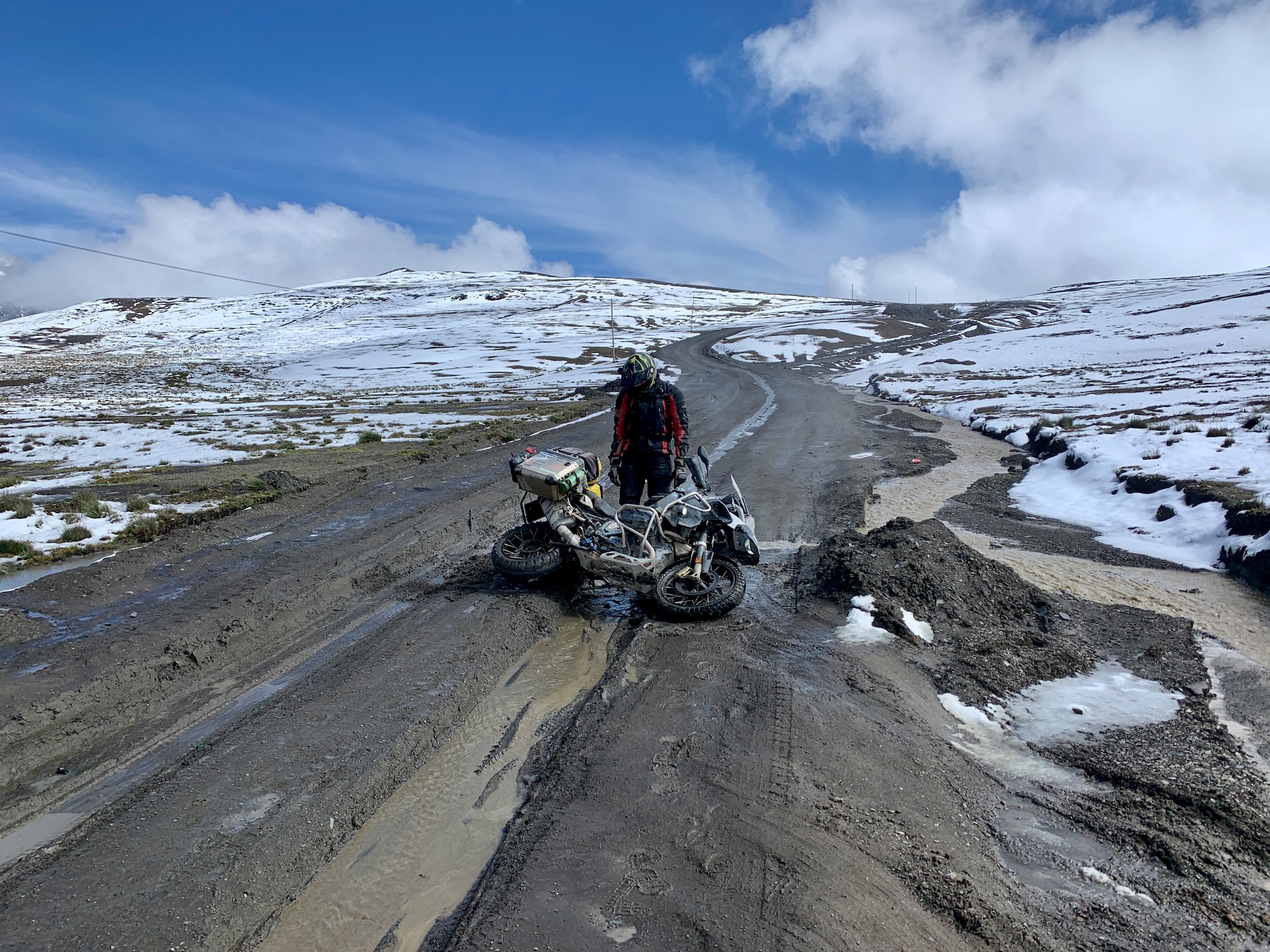 Südamerika war beeindruckend, Afrika jedoch hat mich gefesselt. Mich hat er erwischt, der Virus Africana. Deswegen habe mich letzten Oktober auch mit einem "Auf Wiedersehen Afrika…man sieht sich immer zweimal im Leben" von dort verabschiedet.
Unberührte, faszinierend weite und farbige Landschaften zaubern mir heute ebenso noch ein Lächeln ins Gesicht, wie die vielfältige Tierwelt und Erinnerungen an die vielen hilfsbereiten und gastfreundlichen Menschen, die meinen Weg kreuzten. Mit nicht wenigen stehe ich heute noch Kontakt, ja auch neue Freundschaften sind daraus entstanden.
Die fünf gemeinsamen Monate mit Marco waren unbeschreiblich. Ich bin sehr dankbar, dass ich diese einmalige Zeit erleben durfte, eine Zeit, von der wir unseren Enkeln noch erzählen werden.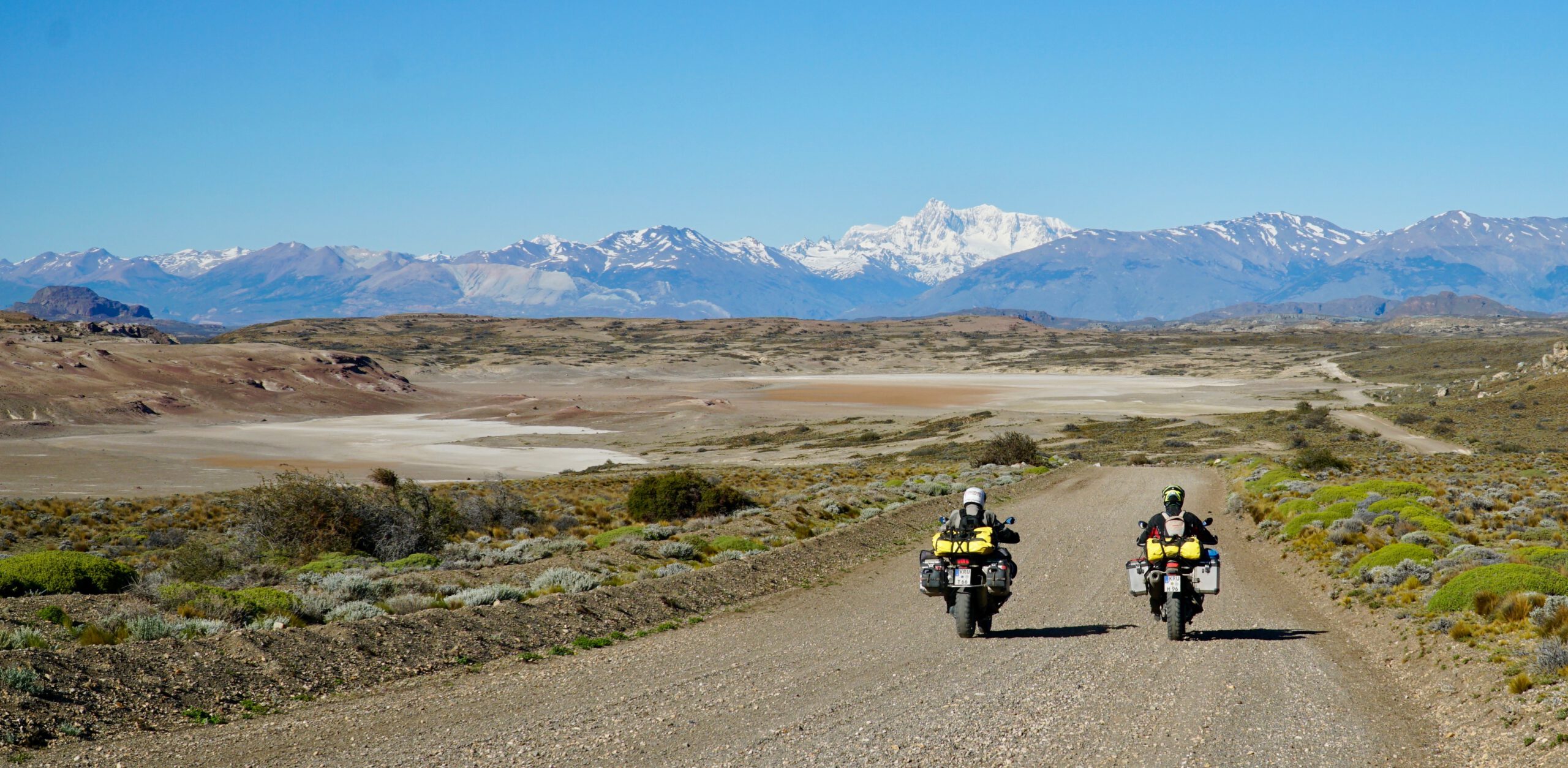 Nachdenklich gestimmt haben mich vor allem in Afrika die sichtbaren Folgen des Klimawandels mit langanhaltenden Dürren und teils verheerenden Regenfällen. Ebenso die zuweilen extreme Armut in vielen Ländern, in denen die Menschen kaum mehr haben, als sie zum Überleben benötigen. Kinderaugen, die bei einem Keks oder einer kleinen Portion Reis mehr leuchten als hierzulande bei überfüllten Gabentischen zu Weihnachten oder Geburtstagen, zeigten mir einmal mehr, dass die wirklich wichtigen Dinge gar keine Dinge sind.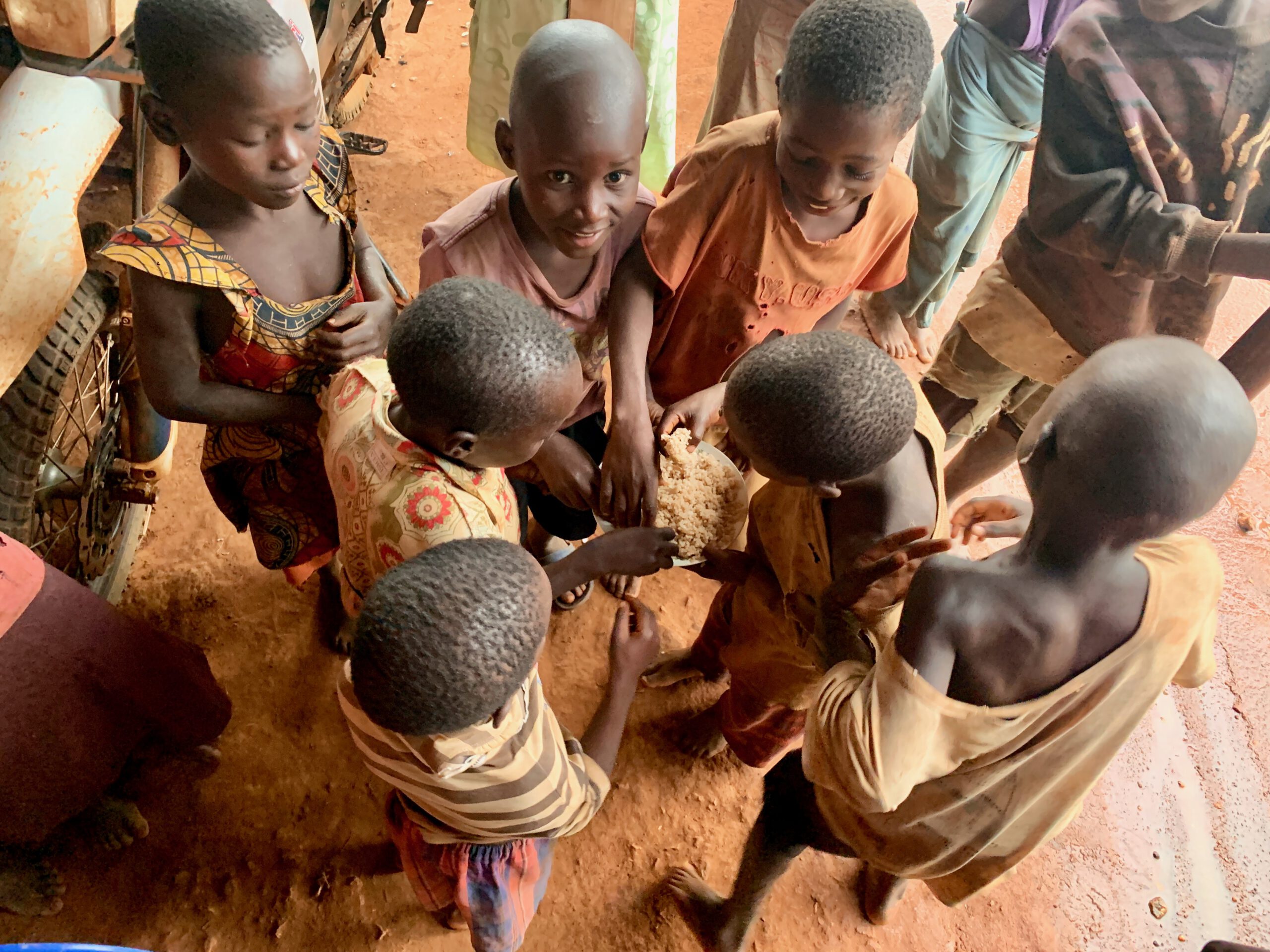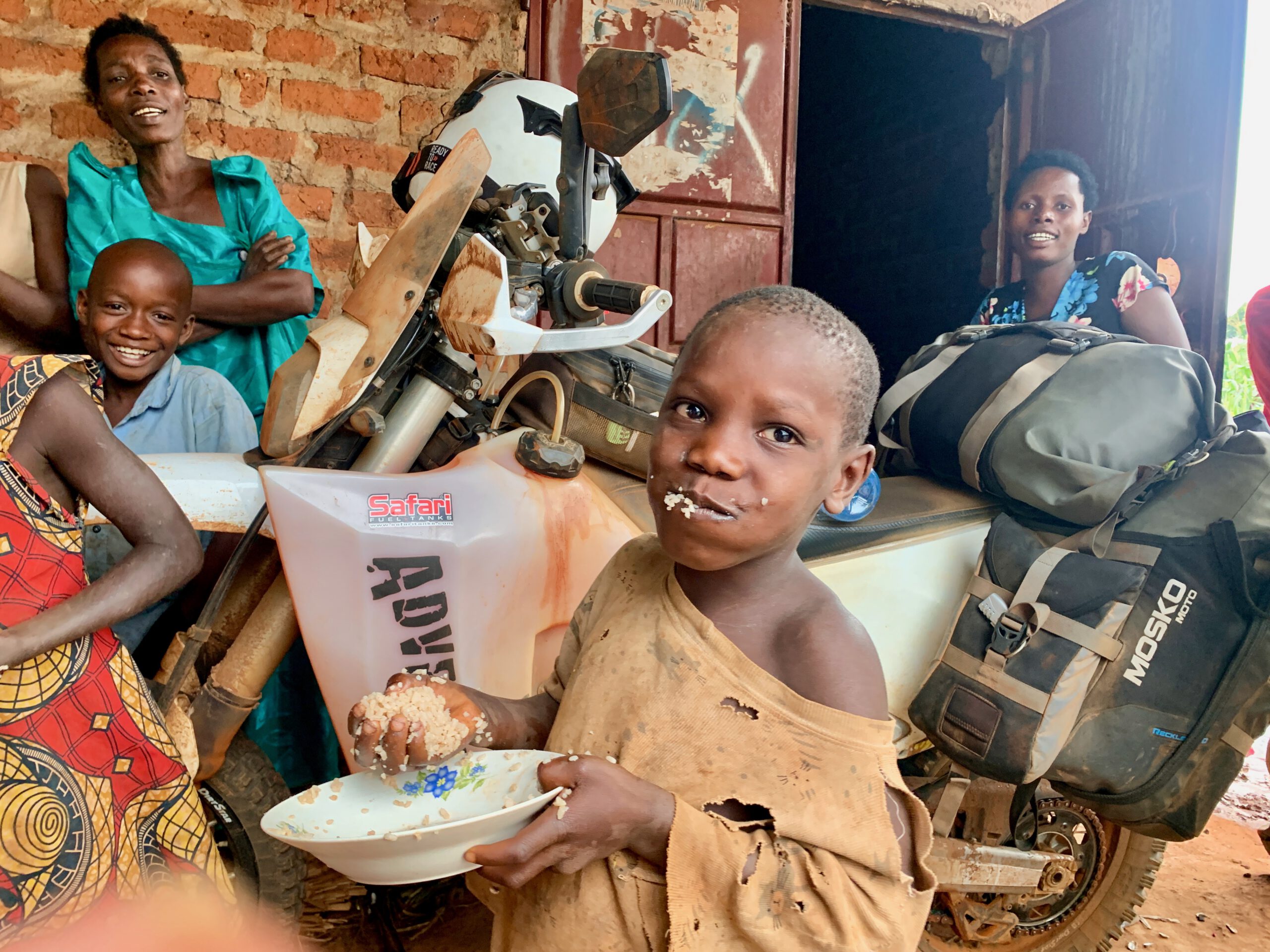 Ob ich mich verändert habe? Ich glaube nicht grundsätzlich. Allerdings bin ich gelassener geworden und sehe viele Dinge nun aus einem anderen Blickwinkel.
Ich hatte ein unfassbar faszinierendes Jahr mit Eindrücken und Erfahrungen, die mir keiner mehr nehmen kann. Deswegen ist für mich in der Mitte meiner geplanten Reise mein Glas halb voll, nicht halb leer.
Wie es nun weitergeht? Ich weiß es momentan nicht. Corona macht zurzeit eine konkrete Planung unmöglich, allerdings spiele ich bereits verschiedene Optionen durch…doch dazu später mehr…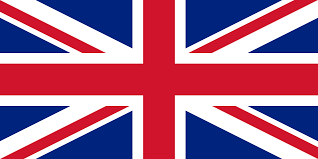 I was about to have the time of my life, I was sure of it. To travel through South America together with son on our motorcycles for about half a year was my personal highlight even before my round the world trip. A not at all everyday possibility, I was aware of that. I was very excited and looked forward to Marco's arrival in Buenos Aires on October 10th. The joy of seeing him again was great since we had not seen each other for more than six months. There was a lot to talk about before we could start our adventure towards Uruguay one week later in pouring rain.
Like in Africa, pictures which I will never forget burned into my memory on this continent.
In Montevideo we were invited to an asado with Jesús, whom we had met in Buenos Aires on Marco's birthday. What's called barbecue in our country, brai in South Africa and BBQ in many parts of the world, is called asado in South America and describes nothing else but the preparation of meat on a charcoal grill. In contrast to us, the use of finished charcoal is largely frowned there. The charcoal is produced by burning whole logs of wood and using the resulting charcoal to grill meat and sausages. A very relaxed way of a barbecue evening, you have enough time to talk and enjoy one or the other beer before the meal. Already in South Africa I enjoyed the finest meat of Kudu, Springbock and Oryx in this way during invitations. But South American, especially Argentinian beef became my absolute local food favourite.
On our way through Uruguay and the south of Brazil we saw a possible reason why the meat is better here. The animals have huge, mostly juicy green pastures.
We took the 3.000 km long detour over the south of Brazil to visit the impressive Iguazù waterfalls. These consist of 20 larger and 255 smaller falls and extend over 2.7 kilometres. Really impressive, but also very touristy. Not really our thing, but in this case absolutely worth it.
From the waterfalls, which are located at the border between Brazil and Argentina, Paraguay was only a short ride away. Contrary to relevant warnings, above all about allegedly extremely corrupt policemen, we nevertheless decided to cross this country in the east from north to south. I remember especially the huge agricultural areas east of the Rio Paraguay, where mainly soya is industrially cultivated. The big landowners there are mainly German speaking Mennonites, who mostly moved from Canada in the 20/30-ies and now represent the richer part of the population. By the way, we did not come across corrupt policemen once. We were simply waved through at all checkpoints.
Back in Argentina we went via Cordoba towards the coast. The Peninsula Valdes was our destination. This Patagonian nature reserve is an animal paradise. Beside the omnipresent guanacos we could watch numerous birds, penguins, seals and Marco got to see giant humpback whales with their young at close range during a boat tour. But what makes this peninsula unique is the fact that there is the world's only continental colony of elephant seals that reproduce there. About 20,000 animals reach the beaches between August and March of each year to mate, give birth and skin themselves. About 500 harems, consisting of 2 to 130 females per harem, populate the approximately 200 km long coast during this time. The dominant males can mate up to 15 times a day… a number that will inevitably be remembered…
Unlike the African continent, which is made up of 54 recognized states, in South America there are only 12 of them. Accordingly, they are usually very large. Brazil, with its almost 8.6 million square kilometres, is one of the world's ten biggest countries, as is Argentina with 2.8 million square kilometres. In comparison, Germany, with 357,000 square kilometres, seems more like a mini state. The distances we covered from Cordoba to Ushuaia, the southernmost city in the world, are correspondingly long. On partly endless seeming straights through the pampas the notorious Patagonian wind was our constant companion on the way to Tierra del Fuego. At the Fin del Mundo, at the end of the world with the southernmost approachable point, we set up our forever southernmost night camp. The picture of beer, campfire, tent, and cigar will stay in our memory forever.
By crossing the border at the Paso Roballos into Chile we immersed ourselves in a refreshingly colourful, spring-like world. Along the entire Carretera Austral trees, bushes and flowers were blooming. The colours and the smell were an explosion for our senses after the rather barren Patagonian landscape. And we found ourselves in the Andes for the first time. Incredibly colorful mountains, fascinating volcanic landscapes, impressive glaciers were on our way. On the 4,750 m high Paso Aqua Negra, one of the highest border crossings in the world, we entered previously unimaginable spheres. Codillera Paine, Perito Moreno, Fitz Roy, Llaima, Lonquimay, Paso Uspallata and Aqua Negra are not only names for mountains, volcanoes or pass roads but everlasting memories of the enormous and fascinating nature on this continent.
In total, we have crossed the border between Argentina and Chile five times, the longest and narrowest country in the world with 4.275 km, and then we dived with Bolivia again into a completely different world. For the first time I was reminded of Africa again. Bolivia was visibly poorer, the people much darker than in the countries before. On the countless markets there was everything to buy, from food to clothes up to spare parts for your car. And for almost three weeks on the Altiplano, we were permanently at an altitude beyond the three thousand mark. But the absolute highlight was the Salar de Uyuni in the southwest. With more than 10,000 square kilometres it is the largest salt pan on earth, captivated us with its sheer endless white expanse and an unforgettable sunset on the mirror-like surface of the lake, which was covered with a few centimetres of water due to the rainy season.
Via Lake Titicaca, which is almost 13 times as big as Lake Constance and up to 365 metres deep, we got from Bolivia to Peru. Machu Picchu was impressive. It was unbelievable what kind of constructional achievement was accomplished there in the 15th century by the Incas. Llamas and alpacas on the Altiplano made the country as unique to us as the extensive desert areas along the coast in the north. Unfortunately, however, Peru also remains in my memory as a country with a to me previously unknown extent of environmental pollution. Whole areas, especially in the north along the Pan Americana and around villages and cities, are huge rubbish dumps. Smoldering garbage sometimes left you hardly any air to breathe.
In Ecuador, the Galapagos Islands were our last common destination. A perfect and, after the strains of the past five months, quite luxurious conclusion to our joint journey. As planned, we parted afterwards in Guayaquil when the corona world in South America was still ok. Marco went back to Lima from where he wanted to ship his moped, whereas I drove across the mountains in Ecuador further to Colombia.
But within a week the situation changed day by day. Borders closed, international and national flights were suspended, and we were stuck with Peru and Colombia in different countries. So, it happened that I arrived back home completely unplanned even before Marco.
During my 358 days of travelling more than 57,000 km, my route often led me over partly catastrophic pothole/corrugated/mud and sand tracks, which demanded a lot from me and sometimes brought me to my physical limits as well as temperatures of up to 50 degrees. Border crossings in Africa were often complicated and time-consuming. It was not always easy, but HAKUNA MATATA! There are no unsolvable problems, everything is possible!
South America was impressive, but Africa captivated me. I was caught by the Virus Africana. That is why I said goodbye to Africa last October with a "Goodbye Africa…you always see each other twice in life".
Untouched, fascinatingly wide and colourful landscapes still put a smile on my face, as well as the diverse animal world and memories of the many helpful and hospitable people who crossed my path. I am still in touch with quite a few of them today, and new friendships have evolved.
The five months I spent together with Marco were indescribable. I am very grateful that I was able to experience this unique time, a time we will tell our grandchildren about.
Especially in Africa, the visible consequences of climate change with long lasting droughts and sometimes devastating rainfalls have made me think. The same applies to the sometimes extreme poverty in many countries, where people have little more than they need to survive. Children's eyes, which shine more brightly over a cookie or a small portion of rice than in this country overcrowded tables of presents at Christmas or birthdays, showed me once again that the really important things are not things at all.
Have I changed? I don't think so in principle. However, I have become more relaxed and now I see many things from a different perspective.
I had an incredibly fascinating year with impressions and experiences that nobody can take away from me. That's why in the middle of my planned journey my glass is half full, not half empty.
How will it continue now? I do not know now. Corona makes a concrete planning impossible at the moment, but I'm already playing through different options…but more about that later…
Copyright © Armin Thalhofer